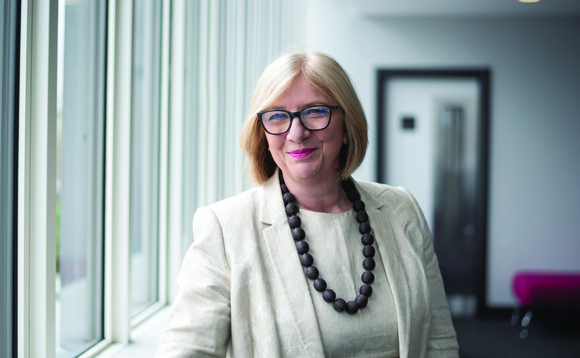 That you work in your dream job is not something everyone can say. But that is exactly how Caroline Siarkiewicz describes her role at the helm of the Money and Pensions Service (Maps).
Siarkiewicz is chief executive (CEO) of the statutory body - a role she has held since January 2020. She successfully assumed the position following her stint as acting CEO between June 2019 and January 2020 - a time during which the organisation developed and published its UK strategy for financial wellbeing.
Delivery of this strategy, Siarkiewicz says, is founded on organisations working together. "We recognise that anything that's going to have an impact in the pensions industry has to be across a broad coalition of likeminded bodies," she says, adding that Maps wants to work "with all organisations who share our thoughts".
The strategy aims to 'drive change at scale and shift the dials on personal finance'. The ten-year framework also sets out to 'help achieve the vision' of all savers making the most of their money and pensions.
Helping people make the most of their pensions and reach the right decisions for their retirement are aims Siarkiewicz is passionate about.
"Our corporate mission is we help people. Key to judging the success of Maps is about how many people we have helped and the amount of help we've been able to give."
Siarkiewicz says a key focus for the organisation is around the due diligence of pensions and providing a good service to customers.
"Each year we are helping more than one million people, and each year upwards of 13 million people are going onto our site for information," she explains. "We make sure we have a connection with people and help them get to a better place with their finances."
Stronger nudge
Maps is planning on using the 'stronger nudge' to guidance later in the year to prompt more people to come froward and think about their pensions and what they need to do to achieve a comfortable retirement.
The idea of a stronger nudge to pension guidance has been bandied about for some time. It involves the idea that savers can be 'nudged' into guidance when accessing or transferring savings, or applying pension freedom flexibilities, in order to better protect them from poor decision-making.
While a Department for Work and Pensions (DWP) policy area, Maps - an arms-length body of the DWP - took part in a pilot with a number of providers to test different ways of nudging people to get the guidance they need.
"Across the board, levels of engagement are pretty low," Siarkiewicz admits. "When it comes to making big decisions, especially in pensions, you can only make the decision once, so it is critical we can intervene so people can make better decisions for themselves."
Maps has a 2021/22 target of 420,000 pensions guidance sessions.
Earlier this year, the DWP confirmed it had expanded the scope of the stronger nudge initiative to help more savers benefit from pensions guidance.
In response to its 'Stronger nudge to pensions guidance' consultation, the DWP confirmed in January that it would bring forward regulations to ensure individuals in scope are made aware of Pension Wise guidance when they seek to access their defined contribution (DC) pension savings.
The DWP said pension companies will not have to book a Pension Wise appointment for scheme members but will be "required to facilitate the booking as part of the application process".
Siarkiewicz is positive about the stronger nudge initiative but questions how strong this nudge should be. She explains that some in the industry believe the stronger nudge should move to an auto-requirement to come into guidance. "We don't necessarily share that view," she says, noting: "We're keen to test the stronger nudge and see how it's working, and review it as we go along".
She reveals she has spoken to people who often compare the stronger nudge to guidance to auto-enrolment (AE) but argues it is not quite the same. "AE doesn't require people to do anything, but the stronger nudge requires them to turn up for the guidance."
Of course, a concern with the framework is the additional work and capacity strains it could place on the industry.
Last year the majority (66%) of respondents to a PP poll agreed Pension Wise should be restructured to handle the capacity from the government's stronger nudge and a surge in guidance referrals.
One of those pundits said Pension Wise is "a great idea in theory", but noted: "Unless it has the resources to help people, it will just fade away."
Siarkiewicz reveals: "Maps is ensuring it is geared up for the additional work and is keen to monitor the stronger nudge and see where it goes.
"It is a significant change and we're here to help as many people as possible get into the spaces where they can make the best decisions for themselves and their futures."
The initiative is going to have an impact on engagement, Siarkiewicz hopes, explaining that Maps' previous trials "saw improvements in engagement, so we are expecting to see that borne out as it goes live".
"One thing we know is people are put off making decisions. Pensions seem a long way off, and I think people have an aversion to getting old and thinking about their futures."
She urges savers to "start making plans now", even if for purely simple considerations such as how much money they would need should they need to stop working imminently.
Maps has responsibility for a number of areas, and guidance is just one of those. The industry body is about "helping people across their lifetime," Siarkiewicz says.
"The earlier we can get people to engage with the idea of pensions and retirement, the better."
Research found more than half of all working-age people - more than 22 million savers - said they don't feel they understand enough to make decisions about their retirement.
Maps is working on "meeting that challenge".
"We want to get more people thinking and making plans about the future they want," Siarkiewicz says.
An industry full of jargon
Siarkiewicz is keen the industry works together to make things easier for people.
"The industry is full of jargon, and it can feel quite scary so it is the role of Maps and others across the pensions industry to simplify messages and make it real for people."
She says the industry as a whole needs a common framework to offer people to assist them in planning for their retirement. She suggests breaking the steps down into bite-sized actions, because "if you want to do something big, it's easier if you break it down".
She likens this to the fruit and veg five-a-day messaging and frameworks like the 'Coach to 5k' app, which helps people complete a five kilometre run after nine weeks by completing smaller running sessions to build up to the goal. She says frameworks like these help people understand the benefits of exercise and of health, argues this should be the same for pensions.
People need to tackle what is for some the daunting issue of retirement in smaller stages to understand the benefits, she says. Vital for ensuring saving for retirement is a priority for people is thinking about 'moments that matter'.
"People go through life and various things happen," she explains. "As these things happen, they'll start thinking about the future and their finances so making sure information is available for them at those moments is important."
The pensions dashboards, when launched, can be the key help in ensuring people have their pension information ready in one place to understand their options.
Maps is building the central architecture for the pensions dashboards that firms can then put their own front end on.
"We are trying to get people to engage earlier, and the dashboards will help with engagement," she says. "There is £20bn in lost pensions, which is a killer statistic for people that aren't engaging with what they've got."
She says the future of pensions is about "increasing knowledge and understand so that people can start to build a plan for retirement".
"We are trying to change the view people have of aging because people are living a long time now. If that extended life period is spent in ill health, it's not fun for anyone."
The DWP announced last March that schemes that help savers with later life planning as part of a government trial will receive a £400,000 funding boost to conduct 'mid-life MOT trials'.
"The midlife MOT is good here because it is not just about how much money you have to live on in retirement, but about how you live and make most of your additional years," Siarkiewicz says.
"It's about once you're in retirement, thinking how you make your health and work situation the best it can be, and then how do your finances link to that."
The mid-life MOT - originally suggested by business executive John Cridland - is aimed at improving individuals' financial literacy and has been adopted by several mainstream providers.
It offers online support to encourage people in their 40s, 50s and 60s to make more active planning in the key areas of work, wellbeing and money.
At Maps, Siarkiewicz says there is a "good set of services for people to tap into".
"We don't give financial advice but we give guidance, and we are very careful to stay on the right side of that line."
Early life engagement
Getting people to engage early on in their life is going to be one of the biggest issues in the pensions industry in the coming years, Siarkiewicz argues.
"If trying to build up a pot for future life and knowing life expectancy is increasing, you can't start soon enough. We need people to understand the implications. And we don't want people to have a shock when they get to retirement."
The gender challenges involved in pensions is another issue Siarkiewicz - who describes herself as a woman nearing time to think about taking her pension - is passionate about sorting.
"There are different outcomes for men and women. This is starting to change a bit but not yet fundamentally, so people need to understand this as they go forward and plan.
"Women often lose out because of the nature of them being in and out of careers. We must ensure we have the opportunity to talk to women so we can clearly see the impacts on their career and help them understand how they can maximise the level of income they have at retirement.
"When it comes to separating from partners, women have quite often also lost out in this area. As an industry we need to make sure everything is taken into account as they approach older age."
She continues: "Pivotal is the period of early engagement and then accrual, then once they have their pension built up, it's about decumulation.There are tools out there to help with these stages."
Siarkiewicz explains Maps helps people in the different stages of saving differently. This includes helping people who have a specific pension problem, providing a holistic offering for people asking about drawing down including those who have no other savings, supporting people in retirement and later life, and helping people with looking at the option of taking their pensions and how options can be maximised for people, so they make the choice that is right for them.
"People will often come forward with a set idea of what they want to do but when you tease out where they are in life, they often decide a different option."
She says this will "always be an area of change", especially considering Covid-19.
The pandemic has changed the way people are working and has changed people's views of what they want after they leave work. "We have seen 'the great resignation' and it will be interesting to see if people will come back to work after this."
A dream job
Making a difference to people's lives is a key component of Siarkiewicz's career, and something she attributes to why this is her "dream job".
Prior to taking on the top role at Maps, Siarkiewicz was head of UK debt advice at one of Maps' forerunners the Money Advice Service, leading the development of new ways of working with the debt advice sector. Before this she was CEO of the Institute of Money Advisers - a professional membership body for money advisers.
"My career has been around helping people with their money and finances," she says.
Her first engagement in the financial services field was working for a building society. "I was a young, new starter working with customers, and could see the different types of people with their finances.
"I'd see children coming in with their money boxes and I'd see others withdrawing their money so I could see the different financial stages people go through."
Through her career, one key thing Siarkiewicz has picked up is that a company must "hire the best team and create an environment where people can thrive".
She says: "Always hire people who are better than you."
CV: Caroline Siarkiewicz
Position Caroline Siarkiewicz is chief executive of the Money and Pensions Service.
Previously Before her appointment to CEO, she was interim CEO at Maps between June 2019 and January 2020 and prior to this she was partnerships and commissioning director at Maps. Prior to this she was head of UK debt advice at the Money Advice Service, and held the CEO role at the Institute of Money Advisers.