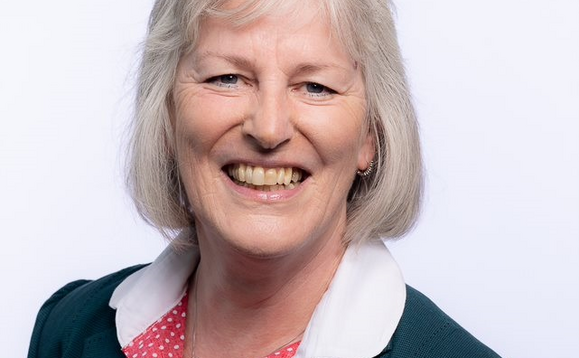 With around 350,000 members, £37bn of assets, over 100 sections and more than 150 employers, the Railways Pension Scheme (RPS) is one of the biggest and most complex pension schemes in the UK.
The job, therefore, of chairing the scheme trustee board is a challenging one.
Christine Kernoghan took on the role in July last year following the retirement of Chris Hannon. She is a rail industry veteran, having worked across a range of project management, people management and operational roles for around 40 years at both British Rail and in the franchise companies post-privatisation.
During her career Kernoghan has also had a number of pension roles - being involved in the RPS for around 20 years at South West Trains and South Western Railways as pensions manager and pensions committee member before taking on a role as trustee of the railways scheme in 2016.
But she says there has been common thread running through her career, both in the railways industry and in pensions - to do a good job and communicate well.
Kernoghan says: "I think my main driver was always the need to do a good job - that's really important - and to aspire to high standards. And both pensions and the railway are both people industries, so communication is absolutely key."
A woman in a man's world
When Kernoghan began her career, both the pension industry and the rail industry were very male dominated - something she said she overcame through having some good mentors and coaches as well as working with some great teams.
She says: "Needless to say that, when I started in the railways, there weren't that many women. But the mentors and coaches really helped me a lot and I learned very early on that you're only as good as the team that supports you."
Kernoghan says she also realised early on that she didn't have to be the leader to take the lead and had always been given a lot of opportunity to extend her role as well.
"You don't necessarily have to climb up the tree, you can go sideways as well," she notes, talking about the opportunities she has had during her career with various projects and industry groups.
Becoming a RPS trustee
She says the work she had done during her career on pensions - particularly the work she did in the immediate aftermath of the rail industry's privatisation and her work with members as pensions manager running roadshows - really gave her a good grounding in pensions and stood her in good stead when it came to being a trustee.
Kernoghan explains: "In the end, someone suggested I become a trustee, and it seemed a natural progression."
She says taking on the role of trustee and then of chair was an opportunity to use her skills and expertise to have positive impact on the members, something which is incredibly important to both her and the wider RPS board and executive.
Kernoghan adds: "The fact that both the trustee board and Railpen have got strong sense of purpose really aligned with the members make the role of chair such an exciting one. You're only a caretaker for a short period of time in the pension scheme's history as a chair and I think I can try and make a difference and have positive impact for members."
Challenges
The complexity of the railways scheme poses a number of challenges for a trustee board - not least the need to consider investment strategy across a sectionalised scheme and deal with a range of different scheme structures, both open and closed, across the fund.
Kernoghan says providing value for money is also key consideration for the trustee board. She explains: "People are paying into a pension. They're expecting us as trustees to look after their money properly and we have to really carefully consider how we are actually spending that money."
RPS is also looking towards the trustees of the future. Kernoghan notes that, while the scheme now has three women trustees, the scheme is always looking for new people - looking to build a pool of people to develop as potential trustees going forward.
She says: "It's a complicated scheme, it is very time consuming as a trustee, but it's a really huge development role and it's one of the few roles that gives you a view across the whole rail industry."
The scheme is, Kernoghan says, also looking at investing for the future - noting that the rail industry has a big part to play in the country's green agenda and it is something both rail operators and their staff are dealing with on a day-to-day basis in their work.
Kernoghan says the members also want to see this in the way RPS is investing: "I think for pensions generally, if you want people to invest in their pension, what's better than saying well actually, you're also investing in your future life as well - not only are you investing money for yourself, you're also investing for the good of your environment and your life. That's quite a big thing."
Like other schemes, RPS is also constantly reviewing its governance to make sure it is appropriate and kept up to date and also keeping up to speed with regulatory developments such as the (now delayed) pensions dashboards and the new defined benefit funding code of practice.
The scheme also has its 2022 valuation - something that Kernoghan says "takes up quite a lot of time" when your scheme has 107 different sections.
Being the best you can
On International Women's Day, Kernoghan also shares her thoughts on what it takes to make it as a woman in a male industry.
Kernoghan says: "As a female in a male industry, you have to be resilient, you have to be resourceful and you have to be tenacious.
"In addition to this, you have to be prepared to influence in a wider way, you have to be patient and you have to juggle everything - home, work and everything else."
She concludes: "I try and be the best person I can - I'm not trying to be someone else, I'm trying to be the best I can be… I think if we can empower women to do that, then I think it will help them develop to be the best they can be."
CV: Christine Kernoghan
Position: Christine Kernoghan is trustee chair of the Railways Pension Scheme, a role she began in July 2022 following the retirement of Chris Hannon. She joined the scheme's governing trustee board, the Railways Pension Trustee Company, as an employer director in 2016 and has chaired its integrated funding committee since 2019.
Previously: Kernoghan has worked in railways for nearly 40 years and is the former head of financial services at South Western Railway. During a varied career, she has held roles in project management, HR, engineering, and operations and also has 20 years of involvement in the railways pension schemes as SWR pensions manager and pensions committee member.