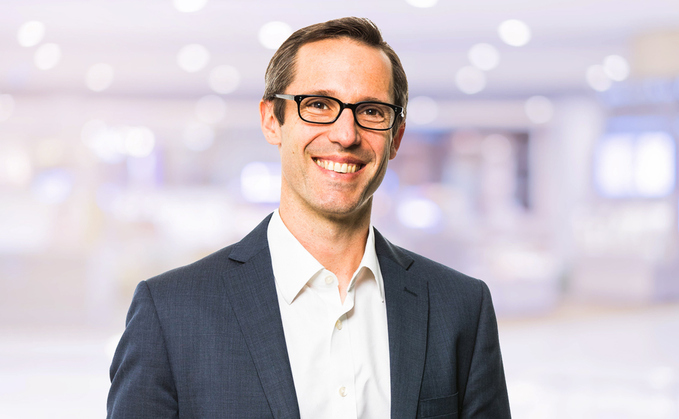 Professional Pensions spoke to Hymans Robertson's Jon Hatchett, who became the firm's senior partner at the beginning of April. This is what he had to say…
Hymans Robertson is a firm with a long history in pensions - indeed one that celebrated its centenary in 2021, marking 100 years since Howard Robertson and George Wallace Melville established the business to meet the need for local authority pension schemes to have regular actuarial valuations.
Jon Hatchett - who took over from John Dickson as the firm's senior partner on 1 April - says the firm has been a pensions business for over 100 years, and will continue to be one. But he says it is clear the pensions market is evolving and notes Hymans Robertson will need to evolve with it if it wishes to remain relevant.
But he believes this evolution will involve not only the services the firm provides its clients, but the way in which it provides them and the way in which it conducts itself.
Hatchett explains: "We have spoken before about having a sustainable partnership. That for me means thinking about the long term, and what are our clients going to want.
"Part of that is about the sort of services they want. But part of it is also about remaining the sort of business that they want to work with."
For Hatchett this is about Hymans continuing to be a progressive firm - continuing to think about areas such as diversity and inclusion, corporate social responsibility and climate change.
He says: "On the one hand, I think is the right thing to do. But it attracts people to us as well, and I think it also attracts clients to us, because they will judge us by who we are, as well as what advice or services we can give to them."
Jon Hatchett CV
Position Jon Hatchett is senior partner at Hymans Robertson, a role he began at the start of April.
Previously Hatchett joined Hymans Robertson in 2006 after pursuing a career in academia. He became a partner in 2013 and was invited to be an equity member in 2017. During his time at Hymans Robertson, Hatchett has had a variety of roles including leading the firm's corporate consulting business; co-founding the firm's incubator unit, and leading a transformation programme within the organisation's pensions' market teams, focused on improving client experiences. Alongside his work at the firm, Hatchett has sat on the board of examiners, and the research and thought leadership board for the Institute and Faculty of Actuaries and has also authored a number of research papers.
The direction of travel
But how does Hatchett see that long-term future of pensions?
He says that, while there is still a segment of the private sector defined benefit (DB) market that is still open to new members or future accrual, the majority are heading towards buyout over the next ten to 15 years. Despite this, he says the Local Government Pension Scheme market - an area where Hymans Robertson is particularly strong - is still open to members and going strong.
While private sector DB is in decline, Hatchett says defined contribution (DC) is very much on the rise - adding he feels this market has "got a long way to go" before it hits anything like maturity.
But while legislation like auto-enrolment has meant there is a greater volume of assets flowing into DC schemes, and a lot of work has been done on savings solutions and the overall mechanics of drawdown, Hatchett feels the industry has a lot more work to do before it optimises the way that people can take their benefit in retirement to best suit them.
He explains: "We know the majority of people don't like annuities but, on the other hand, drawdown has some pretty big limitations in terms of optimal retirement income."
Hatchett says the retail market is now increasingly overlapping with DC in some ways - but this may actually create more work for the industry as the pendulum continues to swing from institutions and the workplace looking after people to individuals having to do much more themselves, especially if they are to be properly looked after.
Indeed, Hymans is increasing its focus on the individual - not least through Hymans Robertson Personal Wealth, one of the areas of business the firm's incubator unit had developed.
The firm also has its boutique investment management service, Hymans Robertson Investment Services, which provides model portfolio and investment management services, designed to meet the needs of a number of UK financial advice firms.
And it is increasingly supporting corporates who are thinking about financial wellbeing for their employees.
Hatchett explains: "As we kind of come out of the pandemic and into the cost of living crisis, companies are thinking that they ought to spend more time, energy and effort on financial wellbeing."
A partnership model
Hatchett believes that the firm's partnership approach is key to its future within this evolving marketplace - noting the long-term stability such a model offers to clients is still valuable.
But he says the partnership model also brings in much greater diversity of thinking at the leadership level - bringing together the talents of a team that now encompasses skills such as business analysts, system engineers, data architects and risk modellers in addition to actuaries.
He says: "I think a partnership model is an effective construct to harness the energy of all those people. And for us, it genuinely feels well aligned to our culture and values. Now, I'm not saying that's the only way to be successful - there are a variety of different business models out there and they can all be successful for different types of firms with different objectives - but for us the partnership approach is definitely one we want to keep."
Ultimately, however, Hatchett says success will come through the firm evolving with the changing pensions market.
He says: "Hymans is a pensions business - we've been one for over 100 years. Our markets are changing, whether that's the rise of risk transfer in DB or the rise in DC assets in master trusts and retail solutions. The retirement market isn't going anywhere. Millions of people in the UK are going to want to retire and they are living longer than ever. People will need help to be able to enjoy those retirements as securely as possible. As a firm, to be successful we will need to follow those changing pensions markets and evolve with them. To do that we aim to keep bringing our institutional pensions expertise to bear, to support retirees. So our future as a partnership lies in helping people with pensions and long term savings, whether in DB schemes, DC schemes, master trusts or retail."