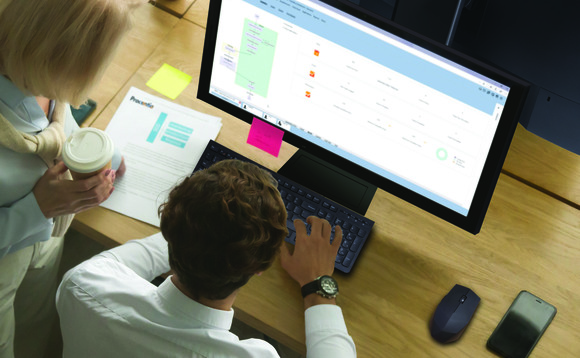 The £57bn BT Pension Scheme (BTPS) – the UK's largest private sector pension scheme – has gone live with a new administration system.
The new platform is based on IntelliPen - the administration software provided by Procentia, a firm that BTPS bought in December 2019 - and is a completely web-based system that provides fully integrated pension administration with automated calculations, workflows, reporting, letter production, document imaging, payments, and online member access.
BTPS is the first of Procentia's clients to use the latest version of its software, IntelliPen.Net v2.5, and was a particularly complex implementation - with 500,000 member records and 2.9 million member documents having been transferred as part of the move.
BT Pension Scheme Administration head of pension services delivery Dave Tomlins said: "BTPS is transforming how the industry delivers a meaningful experience to its members and Procentia's pension software is at the heart of our efforts to improve the online service we provide to our members.
"For us, IntelliPen provides a unified solution in a way no other system can. By focusing on improvements across our processes, teams, training, and technology, we can meet the changing expectations of our members."
Procentia chief executive Steve Donkin added: "Our intuitive IntelliPen solution enables BTPS to become more self-sufficient and undertake many configuration tasks themselves. This platform also ensures members can model retirement plans and make better pension decisions based on full access to this information, drawing data on demand through the member portal.
"Choosing Procentia, BTPS has benefited from our market knowledge and the value we put into customer care. The success of this prestigious project builds on our track record of delivering pension software excellence and innovation. Moreover, it demonstrates we have the technology and expertise to manage the most complex pension schemes on time and to budget."
Self-service portal
BTPS's admin system incorporates a self-service portal which allows members to manage their pensions online, which was launched earlier this year and has already got 78,000 of the scheme's 275,000 members registered to manage their pension digitally.
The portal is accessible via the scheme's website and aims to be both easy to navigate and personalised to each member.
One of the key features is a pension calculator which enables members approaching retirement to model their benefits - helping them decide when to take their pension by showing them its value at different retirement dates as well as modelling all of the options available to them.
Since launch, over 190,000 calculations have been run using the pension calculator and 43% of newly retired members have committed to confirming their retirement choice using the portal.
The portal also enables members to update personal information quickly, download their pension payslips and P60s, and see the value of their pension each month and their payment dates.
BTPS has also developed a number of animated video guides to help members better understand the features and benefits of their BTPS pension which can be viewed here.
Tomlins said: "We have steadily increased member satisfaction scores since bringing member administration in-house in 2018. But we needed to build the high-quality online services members told us they want.
"We've listened and developed a member portal which is simple to navigate, easy to use and supports better decision making. Its popularity shows that we've delivered what members want and we'll continue to work to make continuous improvements."
Donkin added the website solution delivered "full integration" between the member portal and the IntelliPen admin platform.
He said: "Unlike traditional member portals, our technology enables BTPS members to access advanced functionality previously only available to administrators."
The portal, website, and video animation guides were designed by Landscape, a specialist pension communications consultancy.
Landscape client services director Johnathon Ryder added: "We've designed a simple and engaging user interface for BTPS's member portal using modern web techniques and clear call-to-actions that are delivering encouraging results for BTPS members."