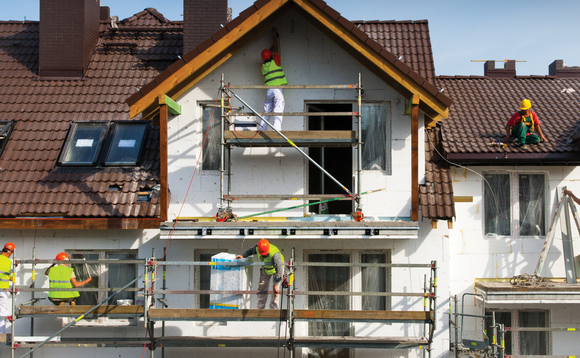 Taylor Wimpey has suspended payments to its pensions escrow arrangement following a sharp improvement in its scheme funding position.
The housebuilder's half year results, published yesterday (3 August), said the group had agreed a new funding agreement with the trustees of the £2.6bn Taylor Wimpey Pension Scheme (TWPS) in March 2021 that committed the firm to pay up to £20m per year into an escrow account.
The first six months of contributions between 1 April 2021 and 30 September 2021 were guaranteed, totalling £10m but from 1 October 2021, further payments into the escrow account were subject to a quarterly funding test with the first funding test having an effective date of 30 September 2021.
The group agreed payments to the escrow would be suspended should the scheme funding position on a technical provisions basis be 100% or more and would only restart should the funding subsequently fall below 98%.
It said the funding test at 30 September 2021 showed a funding level of 103% and therefore escrow payments were suspended on, and from, 1 October last year.
The company said the most recent funding test at June 2022 showed a surplus of £70m and a funding level of 103.5% and as a result no payment into escrow is due in the third quarter of 2022.
Despite this, the group said it continues to provide a contribution for scheme expenses of £2m per year and also makes contributions via a pension funding partnership of £5.1m per year.
Taylor Wimpey noted that as at 3 July 2022, the IAS 19 valuation of the scheme was a surplus of £211.6m, compared to £149.9m at 31 December 2021. It said that, due to the rules of the TWPS, any surplus cannot be recovered by the group.
The improvement in the TWPS's funding position comes as valuations are improving across many defined benefit (DB) schemes - with PP's DB funding index showing a significant improvement across a number of measures over the past 12 months.