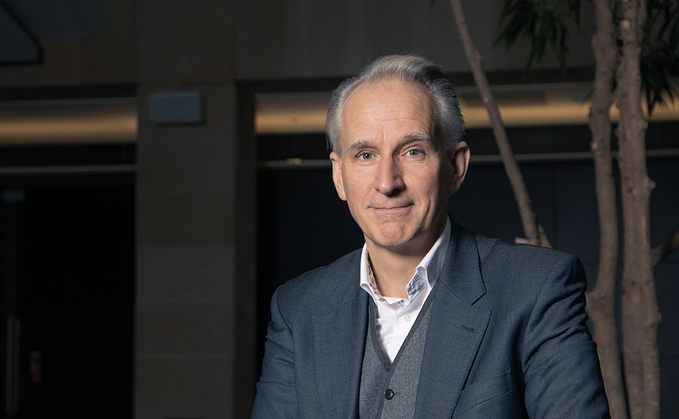 This week's movers include those at Russell Investments, Legal & General, Sackers, Pegasus Pensions and Intellica.
Fidelity hires James Monk as workplace investment director
10 February
Fidelity International has appointed James Monk as an investment director in its workplace investing division.
Monk joined Fidelity in at the start of this month from Aon where he was head of defined contribution (DC) investments.
During his time at Aon, Monk was responsible for implementation of DC investment strategy advice to employers and trustees, developing UK DC Investment house views and governance of Aon's UK DC product, including the Aon Master Trust.
At Fidelity International, Monk will work with some of Fidelity's large strategic clients and further build out FutureWise, its proprietary default investment solution. He will also assist with sharing key investment and sustainability messages with clients and the industry.
Fidelity International head of workplace distribution Dan Smith commented: "We are delighted to have James on board to support the evolution of our strategy for FutureWise. James has a wealth of experience when it comes to working with large strategic clients, and we look forward to having him as part of the Fidelity team."
Monk added: "I'm thrilled to be part of the Fidelity family at such an exciting time of investment innovation. As part of my role in its workplace investing business, I will support the growth of its FutureWise product, which is well-established in the industry, and as such brings a wealth of opportunity for our clients and members alike."
By Jonathan Stapleton
Russell Investments appoints chief executive and chairman
9 February
Russell Investments has announced it has selected Zach Buchwald as chief executive and chairman of the firm's board of directors.
Based in the firm's global headquarters in Seattle, Buchwald will begin his role on 1 May as Russell Investments' eighth chief executive in 87 years. He will succeed Michelle Seitz, who departed the firm late last year.
Buchwald joins Russell Investments from BlackRock where he was a managing director and head of the firm's institutional business in the United States and Canada - serving on the company's global operating committee as well as its US/Canada executive committee.
Prior to this role, he led BlackRock's financial institutions group and had helped establish the firm's retirement solutions group and financial markets advisory platforms.
Before joining BlackRock in 2008, Buchwald was a managing director at Morgan Stanley, where he led the firm's collateralised loan obligation business.
Buchwald said: "I've long admired Russell Investments' unique legacy as a pioneer in investment consulting, OCIO, portfolio implementation, and much more. Today's Russell is differentiated by its commitment to a total portfolio approach, which is critical in our inter-connected investment universe. I am excited to work with this innovative team to help clients achieve their investment goals with the best possible toolkit."
Private equity firms TA Associates and Reverence Capital Partners acquired Russell Investments in 2016.
TA Associates managing director Todd Crockett said: "We believe Zach is the ideal leader to further Russell Investments' legacy of innovation in asset management.
"We are excited to welcome Zach and fully expect his leadership, along with president and chief investment officer Kate El-Hillow and others on the leadership team, will help propel the firm through the next phase of growth, with a focus on delivering a superior client experience."
Reverence Capital Partners managing partner Milton Berlinski added, "Our extensive search process produced a chief executive with proven leadership skills and deep industry experience who fully values Russell Investments' mission of improving people's financial security. Together with the firm's leadership team, we are confident Zach will successfully further the firm's client-centric focus and momentum from day one."
By Jonathan Stapleton
Sackers hires two graduate apprentices
9 February
Sacker & Partners has announced that Eisha Lal and Mollie Kilfoyle have joined the firm as graduate solicitor apprentices.
Senior partner David Saunders said: "Historically, the route to becoming a qualified solicitor has followed a very traditional path which has put it out of reach for many highly capable and gifted young people - this is wrong.
"Our graduate solicitor programme offers aspiring lawyers an alternative route to qualification as a solicitor, as part of our ongoing commitment to widening access to the legal profession.
"It combines on-the-job training with guided, independent study and skills coaching delivered by the University of Law. Our apprentices will 'earn as they learn' and qualify under the solicitors qualifying exams after two and a half years."
Sackers is a sponsor of the Law Society's diversity access scheme - providing funding, mentoring and work experience opportunities for students who have experienced barriers to entering the legal profession - and noted the move to offer apprenticeships was the "next step".
Saunders continued: "Offering apprenticeships is the natural next step, and a further demonstration of our commitment to embedding diversity and inclusion within the firm. We are thrilled to welcome Eisha and Mollie and support them on their journey."
By Jonathan Stapleton
Intellica appoints chief operating officer
8 February
Pension data management software solutions firm Intellica has selected Connor Watters as chief operating officer (COO).
Watters has more than 20 years' technical and management experience and joins the firm from Mercer where he was UK digital lead.
Prior to this he held senior positions at SS&C and Praemium, and also worked at Accenture and Royal & Sun Alliance.
In the new role, Watters will be responsible for strengthening Intellica's operational delivery focus.
Intellica chief executive Brendan Doherty said "This is a critical appointment for us as we needed a highly capable individual who will fit well with Intellica's business philosophy and bring complementary strengths to the management team. Connor was the standout candidate with his experience, attitude and ambitions all being a great fit for us."
Watters added: "Intellica is at an incredible place in its growth and development and I'm very excited to be joining at this time and contributing to the next phases of Brendan's ambitious plans. Intellica's existing propositions are excellent and it's clear there will be no resting on laurels here."
By Holly Roach
Pegasus Pensions appoints senior pensions executive
7 February
Pegasus Pensions, a Law Debenture company, has appointed Jamie Goodfellow as a senior pensions executive.
He joins from Punter Southall Governance Services where he was a senior scheme manager, and prior to this he was governance manager on the National Grid's defined benefit scheme.
Goodfellow was also previously a pensions operations manager at the Money and Pensions Service and chair of Nest's employers' panel.
He has also held positions at Ross Trustees and the Pensions Advisory Service.
Pegasus head Sankar Mahalingham said: "After a busy year that has seen continued high demand for our services, Jamie's appointment is hugely exciting for our business and brilliant news for our clients, who will no doubt benefit from his breadth of expertise in delivering solutions in an evolving industry with wide-ranging demands."
By Holly Roach
L&G appoints Robert Waugh as master trust chair
7 February
Legal & General (L&G) has appointed former NatWest Group Pension Fund chief executive and chief investment officer Robert Waugh to its master trust as trustee chair.
Waugh brings more than 35 years' investment and pensions experience to the role - which he will take on from 1 July - and replaces Dermot Courtier who is stepping down in June after two terms.
By Holly Roach
30% Club selects global chair
7 February
BNY Mellon Investment Management chief executive (CEO) Hanneke Smits is to become the fourth global chair of the 30% Club, which campaigns to increase the number of women at board and senior management levels of the world's biggest companies.
She succeeds Ann Cairns in the role, who joined the 30% Club in 2019 as co-chair, before becoming sole global chair in 2020.
Smits, who became CEO of BNY Mellon IM in October 2020 after heading up Newton Investment Management for four years, has championed improving gender diversity in the workplace throughout her career.
Commenting on her new role, Smits said: "It is an honour to succeed Ann Cairns as global chair of the 30% Club and to continue its mission of increasing the number of women at board and senior management levels.
"The role of the 30% Club is as vital now as it was at launch in 2010. Even today, the baseline target of reaching 30% women - either at board or senior management level - remains a stretch for many organisations throughout the world. Reaching the campaign's ultimate goal of gender parity will take significant effort and investment. I look forward to continuing to grow the 30% Club internationally and tackle a wider range of diversity challenges, inside and outside the boardroom."
This story was written by Katrina Lloyd for PP's sister title Investment Week