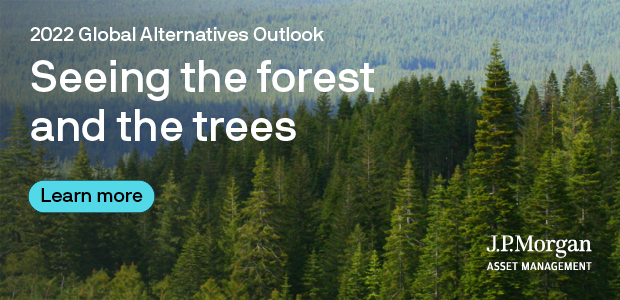 It's all a matter of perspective. As we enter 2022, there is a real risk of missing the forest for the trees. Up close, the "trees" in the 2022 outlook are clear. Consumers will keep spending. So, too, will governments, mostly with money they don't have. Central banks will taper bond purchases, even if there are no buyers to replace them. Interest rates will rise. Transitory inflation will prove to be anything but. The equity market's volatility will likely be surpassed only by Bitcoin's. COVID-19 looks set to continue roiling our lives and markets. All this we know.
But take a step back and the "forest" emerges, filled with both dangers and wonders. In the forest, you'll encounter perils to investment success - stretched valuations in traditional markets, limited correlation benefits between fixed income and equities, and persistently low bond yields - but also marvels, such as the megatrends of environmental, social and governance (ESG) considerations and technological adoption.
To help our clients better see the forest and the trees, for our fourth annual Global Alternatives Outlook we've asked the CEOs, CIOs and strategists from J.P. Morgan's USD 200 billion-plus alternatives platform to provide their 12- to 18-month perspective on the trends influencing their respective markets, as well as their most promising investment ideas and their thoughts on the underappreciated risks investors may face.
Forests are diverse environments. In the Outlook's asset class chapters, you'll find not one house view but, rather, varied thinking from our 700-plus alternatives team members and 18 investment engines across private credit, private equity, hedge funds, real estate and real assets. We strongly believe that diverse views and vigorous debate, informed by data from thousands of individual investments, make us better stewards of our clients' capital.
We know diversity produces superior results. And we acknowledge that much work needs to be done to ensure all the voices of our communities are better represented in our industry and our firm, particularly those of racial minorities. Still, we've made real progress toward our goal of becoming the most diverse alternatives investment manager. Today, nearly 55% of J.P. Morgan's alternatives assets under management are managed by female portfolio managers or women-led teams.
We're also proud to be at the forefront of incorporating ESG factors into our investing process to help deliver long-term investment success. ESG analysis is thoroughly integrated into all of our alternatives strategies. Recently, we became a signatory of the Net Zero Asset Managers initiative. What's more, as the second-largest global forestry investment manager, our (real rather than metaphoric) forests sequester more than one million tons of carbon annually and are home to more than 300 protected species of plants and animals.
As we head into the wilds of 2022, we wish you safe passage and hope you find this Outlook helpful in your journey. Please let us know if we can be of help in implementing any ideas presented or if you need additional information from any of our contributors.
This post was funded by J.P. Morgan Asset Management