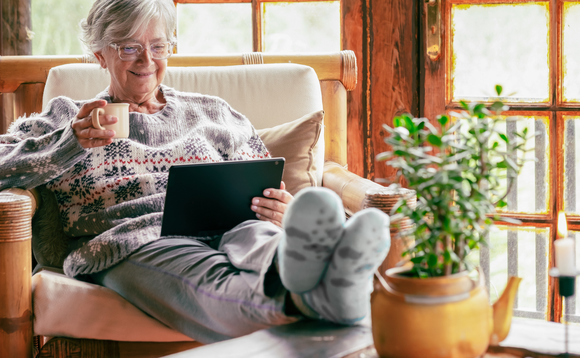 With the recent launch of the 8th annual edition of the Pension Policy Institute's (PPI's) The DC Future Book1, compiled, as it has been since its inception, in association with Columbia Threadneedle Investments, we look at the key findings of this year's research and what actions should be considered if good retirement outcomes are to become the norm.
The DC Future Book
2022 sees the publication of yet another highly informative edition of The DC Future Book, the 8th in the series, underpinned by the PPI's fiercely independent approach to Defined Contribution (DC) research. The DC Future Book continues to promote a better understanding of trends and themes in the UK DC pensions market and as always, there are plenty of facts and figures to pique the interest of even the most experienced DC practitioner. So, what are the key findings of this year's research and what actions should be considered if good retirement outcomes are to become the norm?2
Old age dependency ratio
As we know, the UK pensions landscape has changed quite dramatically over the last few decades as a result of demographic, economic, market, policy and regulatory shifts. However, we're reminded that as life expectancy continues to improve, so the old age dependency ratio will continue to deteriorate.3 That said, partially offsetting this is the ability of future generations being able to work for longer as health longevity improves, albeit at a slower projected pace than longevity improvements.
The poor substitutability of DC for DB
The report notes that the rapid decline in private sector active Defined Benefit (DB) participation, now at less than 1m active members, continues unabated4, while active DC membership, at 13.8m, hits successive highs. However, as we're almost at peak DB pension rights, in the absence of materially and sustainably higher DC contribution rates and stellar investment returns, DC will continue to prove a very poor substitute for DB. And that doesn't even touch on the greater individual decision making, risk and complexity and the much more uncertain outcomes attaching to DC.
Read previous Pensions Watch articles by clicking on the links below
Pensions Watch 1, Pensions Watch 2, Pensions Watch 3, Pensions Watch 4, Pensions Watch 5, Pensions Watch 6, Pensions Watch 7, Pensions Watch 8, Pensions Watch 9, Pensions Watch 10, Pensions Watch 11, Pensions Watch 12, Pensions Watch 13, Pensions Watch 14, Pensions Watch 15, Pensions Watch 16, Pensions Watch 17, Pensions Watch 18, Pensions Watch 19, Pensions Watch 20
References
1 The DC Future Book: in association with Columbia Threadneedle Investments. 2022 edition. Lauren Wilkinson, Daniela Silcock and John Adams. The Pensions Policy Institute. September 2022.
Defined contribution - The Future Book | Columbia Threadneedle Investments
2 Unless otherwise stated, all statistics referred to in this edition of Pensions Watch have been taken from the September 2022 edition of The DC Future Book.
3 The (old age) dependency ratio is a country's dependent population expressed as a percentage of its total working-age (aged 15-64) population. According to the DWP, for the UK this stands at 28.4% (about double the global average) and is forecast to rise to 33.7% by 2047. See: DWP (2022) Second State Pension age review: Independent report call for evidence; Office for Health Improvement & Disparities (2022) Fingertips Public Health Data - healthy life expectancy.
4 However, with 6.3m active members, DB remains the mainstay of public sector pension provision.
This post is funded by Columbia Threadneedle Investments