How to build successful infrastructure partnerships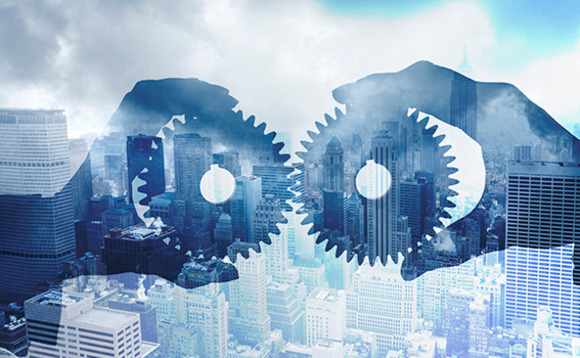 At a glance
Infrastructure investing is becoming more dynamic with a focus on alignment of interests between asset managers and investors
However, a lot of managers are still focusing on the shorter-term private equity style approach
The LPP believes working more in partnership with others will give it a better outcome
The way pension funds invest in infrastructure is changing, with a partnership approach becoming increasingly popular. Stephanie Baxter reports
Pension funds are increasingly investing in infrastructure, whether through direct or indirect investment. There are more sophisticated ways of investing, with some schemes seeking alignment with the manager through a partnership approach.
A panel at the Pensions and Lifetime Savings Association's Investment Conference on 7 March explored the various ways of investing in the asset class, and why a partnership approach can help pension funds get good outcomes.
Columbia Threadneedle Investments global head of infrastructure Heiko Schupp said the landscape is changing. "Infrastructure investment used to be very steady and static to some extent, and I would challenge the audience and the panel by saying that might no longer be the case as infrastructure has turned a bit more dynamic with some big themes."
This in turn is driving a different approach to investing in infrastructure and how asset managers align with schemes.
He added that he believed an open-ended structure provided for the best long-term alignment for institutional investors.
Working in partnership
The Local Pensions Partnership's (LPP) chief investment officer and managing director of investments Chris Rule, who is also a member of the investment committee at GLIL Infrastructure, added: "We believe working in partnership with others will give us a better outcome. We're not a fund manager and not here to generate fee income, but want to partner, and will continue to push initiatives, like GLIL."
The £16bn LPP is one of the eight local authority pension pools, and was formed in 2016 through a collaboration between Lancashire County Council and the London Pensions Fund Authority (LPFA).
GLIL is an infrastructure partnership set up by LPFA and the Greater Manchester Pension Fund in 2015. It was originally set up specifically to bring different defined benefit schemes together but Rule said it may look at defined contribution funds in the future if potential partners want to be involved.
He said: "We try to leverage not just our capital but our people, our other resources, and work in partnership to try to deploy capital into an area which we think is a core part of the strategic asset allocation for our pension funds."
Why infrastructure?
The panel discussed the purpose of infrastructure in pension fund portfolios. Schupp said it varies depending on the pension fund. He said: "Most we are speaking to are seeking a risk profile different to the other asset classes they're investing in. It's not a derivative of private equity nor of equity managers or fixed income. It has a risk profile that's different, and most have long-term objectives, and very frequently there's a mixture of yield and growth. I don't think that's particularly well-served by the manager universe where a lot of managers are still focusing on the shorter-term private equity style approach - which is fine but the issue arises where capital is looking for one thing and the managers want something else."
The LPP sees infrastructure as an asset that delivers some yield but is also looking for capital growth from that portfolio. It hopes over a 10-year period that roughly half will come from yield and half from capital appreciation. The LPP is also looking for 'core infrastructure' with returns of CPI plus 4% - 6%.
Rule said: "It's not the traditional private equity approach to infrastructure investing. We want to invest for the next 20-plus years so we run open-ended."
Just under half of the pool's infrastructure investments are via funds while the rest is done directly.
"We need a significant team in order to be able to identify the assets and underwrite them. That's where GLIL comes in - we can partner with other investors. We didn't need to hire all those people or fund all of the cost in building that platform."
GLIL was seeded with £500m and has now grown to £1.8bn, and is investing in nine assets. Rule explained: "It's not just about the acquisition decision; there's a significant asset management task once you own the assets, and working in partnership helps us do that as it comes down to resources and expertise, and be able to share those resources and spread the cost around."
The LPP has long-term liabilities which are inflation linked. "In some cases you can get direct inflation linkage with infrastructure, but quite often you will find correlation or a relationship between inflation and return," Rule explained. "One advantage of investing in infrastructure is there's a good match to pension liabilities. It's not a hedge, but if we can buy what's a very long-term cashflow effectively, which will hopefully grow with our liabilities and inflation linkage, that's an attractive asset. We don't see it as massively diversifying to equity risk - we do think it's another growth asset. Most of the investments we have across the board have economic sensitivity or GDP risk."
The LPP is invested in infrastructure equity rather than infrastructure debt. "We have to accept that it has a correlation to equity risk," said Rule. "But around the edges it has some of the advantages that we don't have with say equity investment of contractual cashflows which can have inflation linkage." The pool also looks to avoid reinvestment risk through its infrastructure investing.
For direct assets, it typically looks at a 20-year plus horizon. "Of course if we have an opportunity, if someone makes a stupid offer, then we always have to be prepared to sell. We won't ignore the possibility to create value through selling an assets. Utility assets may be quite attractive as they are perpetual assets, whereas a lot of infrastructure like renewables have a finite life even though they are long-term assets - there's a 20- to 30-year life on a wind farm, for example. If you get in on day one, you may be able to get up to 30 years but if you buy when it's been in production for four years, it starts to have a shorter investment horizon. If we can, the longer the better."
The LPP is not concerned about getting income on day one, and in fact for a lot of investment it might expect there to be some capital expenditure programme or perhaps a greenfield development asset.
Finding the right manager
The panellists gave their top tips for pension funds seeking an infrastructure investment manager.
"Share with the managers/consultants - or at least be clear yourself - about what you want from the asset class," said Schupp. "It's a very broad church, and not everything that's called infrastructure does exactly the same thing. The extremes are private equity on one hand and then on the other something that looks like fixed income. Look for alignment - not just at the top fee level but also in how the managers are remunerated, and be wary about any success that's partly paid on valuations."
Rule said the LPP wanted to have an implementation route whereby it minimised blind capital risk. He said: "We don't want private equity type structures where there's an incentive to buy, dress up and then sell as that can drive inappropriate decisions on assets and necessarily provide longevity in those assets. The LPP tries to avoid close-ended funds because it wants to stay invested."
Back to Top