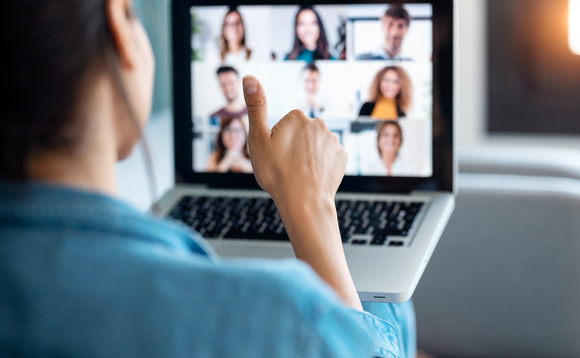 Professional Pensions is speaking to all the major firms in the pensions industry about the changes they are making to the way in which they work. This is what they had to say…
Aon
Aon chief operating officer of UK retirement solutions David Hardern said the firm had put together some guidance for its new smart working model.
He said this would provide both more flexibility for colleagues to manage work and home priorities more flexibly and would enable the business to continue providing exceptional service to its clients - noting that mutual respect, trust and accountability were the foundations of the firm's approach.
Hardern added: "Most roles are unlikely to need to be in the office everyday - office space would be used as a base for client meetings, innovation, collaboration, career learning, colleague development and growth and we're ensuring that all internal and client group meetings will cater inclusively for virtual participation. This will mean that we will all be in the right place, at the right time, to be most effective in our work."
Last updated: 21 July 2021.
Barnett Waddingham
Barnett Waddingham has updated its flexible working framework in a bid to allow its people to work in the way that delivers best for them and their clients.
The consultant said the framework, WorkSmart, had been developed following extensive engagement with both its employees and clients over the past 12 months - noting it provided a clear framework for teams to identify how and where they will work to get their best work done, whether at one of the firm's offices, at a client's office, or at home.
Barnett Waddingham said that, for the majority of its 1,320-plus people, a blend of working locations is anticipated during a typical week.
As part of this, the company said it would continue to invest in all eight of its offices with a continuing focus on enhanced team working, collaboration and learning as people and teams return to working in them on a regular basis.
Senior partner Andrew Vaughan said: "We have purposely taken our time to find the right approach for Barnett Waddingham by proactively engaging our people and clients on this new way of working. We are extremely confident that WorkSmart enables us to deliver a fantastic service while also making the firm an incredible place to work and develop your career."
Vaughan added: "This programme prioritises ongoing investment in our people, our technology, our unique culture and our office space. It is a clear signal of our commitment and ambition to continue building a leading independent organisation that makes a positive impact for our clients, our people and their careers, and the environment."
Last updated: 15 July 2021. See: https://www.professionalpensions.com/news/4034524/barnett-waddingham-unveils-flexible-framework
Cardano
Cardano is adopting a hybrid working policy for its around 400 employees to make its offices "an intentional destination" - a place people choose to work because it "motivates and inspires".
The fiduciary manager said that, having consulted with its staff and listened to feedback, it would aim to balance the needs of both employees and clients - but noted the starting point was that every job can be done flexibly with a focus on great outcomes and allowing employees to own the way they work.
Cardano said its London office is currently being re-designed into a workspace to meet all types of work and social activity with a new social and gathering space and team neighbourhoods for colleague location and interaction. It said it was also building in flexibility for the environment to evolve with the organisation and a "state of the art" client suite to meet and deliver on client needs.
This newly designed workspace will allow each team to work as it needs, while bringing the whole group together. Cardano said, with greater flexibility to work from home, the workspace will support higher levels of mobility and greater choice of setting.
Cardano partner and group head of human resources Dawn Thirley said: "Cardano believes there is value in colleagues working together in an office, but is also supportive of home working, encouraging staff to split their time between home and the office, with the appropriate split taking account of the individual's role and team."
Last updated: 20 July 2021. See: https://www.professionalpensions.com/news/4034732/cardano-adopts-hybrid-policy
Dalriada Trustees
Dalriada Trustees said it is going to allow colleagues to work wherever they choose most of the time, but said, for most colleagues, some time would need to be spent in the office.
Dalriada Trustees director Brian Spence said: "Many of our professional trustees joined us at entry level and they are keen to develop their knowledge and skills, often by learning from their more experienced colleagues. Collaboration, learning and teaching is better-done face-to-face and we will be meeting our clients in person whenever they want us to.
"We have a relatively young team for the pensions industry and many of them are keen to get back into the office but with the virus still quite prevalent and the risk of new variants we are being cautious."
Dalriada Trustees said it was allowing colleagues to return as and when they have been vaccinated, but noted it has had to reduce the number of people we can accommodate at once in its offices - adding that it had also put in place a number of precautions to make its people feel safe, including one-way systems, screens around desks, meeting room protocols and housekeeping services for better hygiene.
The firm said hybrid meetings with both face to face and in-person attendance will become the norm much of the time - but noted much of what it was doing was an evolution of the way it had been working previously.
Spence said: "Dalriada has been a paperless business since 2009, with IT infrastructure entirely cloud based and no physical servers. Working from home has been a breeze in terms of IT and processes.
"Almost all documents are now signed digitally and financial transactions are processed and authorised digitally."
Spence added: "The biggest change we have made is to build a scheme document portal and meeting packs into Microsoft Teams to support face-to-face, virtual or hybrid meetings in a consistent and agile manner."
Last updated: 22 July 2021.
Hymans Robertson
Hymans Robertson is to offer all its employees more flexibility about the amount of time they spend in the office, with the opportunity to work in a hybrid way post pandemic.
The consultant said its new approach will allow all staff, if they choose, to benefit from a mixture of remote and office working.
Hymans Robertson said its new hybrid working approach has been developed after extensive consultation with employees, through its ongoing 'Reimagining Working Life' project.
The firm, which is celebrating its centenary this year, recently reached the milestone of 1,000 employees having welcomed over 150 new people to the firm over the pandemic. It has four offices in London, Birmingham, Glasgow and Edinburgh, and said every employee will continue to have a designated office.
But it added, while all employees will benefit from greater flexibility with the option of remote working, the office environment remains an important part of the firm's culture, so some regular presence in the office will be required. It also said it will be imperative that employees they meet any business and client needs for office presence.
Explaining the new way of working, Hymans Robertson managing partner Shireen Anisuddin said: "A few years ago it would have seemed unbelievable to think that we could all have worked so effectively from home for over a year. Yet when lockdown began, as a firm, we adjusted seamlessly to this. We've seen many benefits for our people's wellbeing, while at the same time still operating very successfully as a business. So, we're really excited to be able to learn from this experience and introduce our 'new normal' of hybrid working."
Anisuddin said when the firm asked its employees for their views it was clear that many appreciated the benefits of reduced time spent commuting, increased flexibility over working hours and the ability to spend more time focusing on their wellbeing through exercising and eating more healthily.
She said: "Our new hybrid approach will allow our employees to retain many of these advantages, while at the same time recognising that at the heart and soul of our firm is a vibrant office life. It's through face-to-face collaboration in the office that great ideas can be developed; learning can be achieved from those with more experience; and strong working and social relationships built. We believe all these ultimately benefit our clients."
Anisuddin added: "Serving our clients' needs is our priority so introducing this new hybrid working approach will allow us the flexibility to ensure this remains the case."
UPDATE - 27 August
Anisuddin said that, based on feedback from its staff, the firm has now also extended our working window, to between 7am and 7pm, to accommodate more of the benefits remote working provides.
She added: "We continue to partner with our clients to ensure that they also benefit from the advantages of hybrid working and that we meet or exceed their needs. We are delivering technology solutions to meet the new requirements of hybrid working for both our clients and colleagues. Our expectation remains that this will take effect from October."
Last updated: 27 August 2021. Read more at: https://www.professionalpensions.com/news/4034858/hymans-robertson-offer-hybrid-staff
Insight Investment
Insight Investment said that, as a business it has been working very effectively remotely, but noted its intention is for employees to begin to return to the office later this year. It said a phased return for a limited number of employees who asked to return sooner has been underway since July but said its approach remains "very cautious with employee safety a primary concern".
Insight Investment head of human resources Lynne Dalgarno added that Insight would launch a 12-month pilot to test a hybrid model.
She said: "The return to office will coincide with the introduction of a pilot hybrid model where all employees will be invited to work a minimum of three days from the office and two days from home. Those who prefer to return to the office full-time are welcome to do so.
"There is a balance between working remotely and the sense of culture and creativity that comes from working physically alongside each other. In this spirit of cross-team collaboration we are asking all colleagues to be in the office for the same day once a week. They can decide how best to balance the remainder of their week in line with the pilot's framework."
Dalgarno explained: "This will be a 12-month pilot because a key lesson from the last 18 months has been that we cannot predict the future. We intend to take small steps and adjust as we go forward. We consider our chosen hybrid model to be a fair, equitable and consistent model that can be applied across our global business, encouraging a seamless link between work and home while ensuring client and business needs are met.
"The process will be supported by training for our managers to help individuals in their teams navigate the shift back to the office and adapt to new ways of working."
Last updated: 2 August 2021.
Isio
Isio is to trial different hybrid working patterns over the next few months as the company explores the best way of working in a new post-pandemic flexible environment.
The consultant said it was in a "slightly different" situation to most businesses as it was established just two weeks before the first lockdown in March last year - meaning its teams will now be starting afresh in eight brand new sites across the country that have all been designed to offer a flexible and modern approach to office working.
Isio said its new offices have varied zones such as collaborative hubs for team get togethers, quiet library space for more focused work and study, a coffee catch up area as well as more traditional desk arrangements.
The firm said it had consulted with its 600 employees over the last 16 months on the design of the offices - seeking feedback as to how they want to manage their working environment in the future and what benefits they find both at home and in the office.
Isio said it would now be trialling different hybrid working patterns over the next few months as the company explores the best way of working in a new flexible environment.
Chief executive Andrew Coles said: "There is no doubt that working from home can offer a more flexible approach to the working day, can provide an incredibly focused environment away from distractions and the lack of commute has given back valuable personal time to spend with family and friends.  
"However, we also know from the feedback that our teams miss being together. They miss the team meetings, being able to catch up whilst making a drink, having chance conversations that spark new ideas as you see people around. They also miss the distinction between work and home which, if not addressed, can have a negative impact on mental wellbeing."
From a client perspective, Coles said Isio was very much "open for business" and had seen more clients starting to suggest physical meetings again.
Coles concluded: "The trial will allow us to try things, get feedback and from there we can create a balanced framework which best supports us and our clients as we all learn to adapt to this new way of working."
Last updated: 20 July 2021. Read more at: https://www.professionalpensions.com/news/4034727/isio-%E2%80%98open-business%E2%80%99-begins-hybrid-trials
Janus Henderson
Janus Henderson says it is taking a considered approach to its future working practices - noting it is committed to finding the model that's right for its colleagues and clients, while following all local restrictions.
The asset management said that, while it can't currently say what its exact future working model will be, it wants to retain the best of both office-based and remote working.
As a first step, it said it has set the general guidance of two days working in the office per week. But it said this depends on an individual's role - noting some colleagues are already doing more than that - and was subject to variables, including local government guidelines, personal circumstances and the type of role someone performs. It added all staff will discuss their needs their manager to find the right individual balance.
Janus Henderson said it had established regular feedback mechanisms with its colleagues and will check its progress in September.
Last updated: 28 July 2021.
Mercer
Mercer has set out plans to move to an agile office model on a permanent basis - closing a number of offices and modernising others as a result of both its acquisition of JLT in 2019 and the impact of the Covid-19 pandemic.
The firm said its plans - which will not involve any job cuts - will build on its existing flexible working policy and give all its remote workers access to offices.
It said the agile office model will result in the reduction of some office sizes and the closure of some physical spaces, with additional investment being made in other locations.
Mercer currently has 21 offices and 4,500 staff across the UK.
Its plans will result in the closure of office buildings in Croydon, Woking, Reading, Northampton, and Chipping Sodbury in South Gloucestershire. In addition, Mercer plans to make investments in renovation and modernisation of offices in Belfast, Birmingham, Manchester, Bristol, Exeter, Glasgow and London.
The investments will focus on providing "modern and inspiring" workspaces that provide meeting facilities for clients as well places where colleagues can meet with each other, collaborate and learn. Globally, Mercer said it is investing in technology and digital collaboration tools to "further enable and enhance the client and colleague experience".
UK chief executive Sylvia Pozezanac said: "Following the Marsh & McLennan acquisition of JLT in 2019, Mercer's UK office space almost doubled. The plans we are announcing mark the completion of this integration project as we work towards using our facilities more effectively, to the benefit of all."
She added: "The way we all approach work has changed dramatically over the last few years. As an adviser and modern employer, we are committed to adapting how and where we work to meet the evolving needs of both our clients and our colleagues. For many years, our agile working policy has allowed employees to work remotely while servicing clients effectively and the pandemic has accelerated the speed at which we are establishing it.
"Our teams have demonstrated that they can successfully support clients and each other through working virtually, in a flexible and agile way. While the pandemic has reinforced our thinking and approach to agile working, our offices will continue to play a key role in driving collaboration and innovation and so we plan to continue to modernise them."
Last updated: 4 February 2021. See: https://www.professionalpensions.com/news/4026725/exclusive-mercer-shut-offices-post-pandemic-acceleration-flexible
SECOR Asset Management
SECOR Asset Management is set to implement a hybrid model to maintain a "vibrant office environment" while giving team members the flexibility to work from home.
The fiduciary and asset manager said it had always taken advantage of virtual collaboration both internally and with its clients but noted that, following the global pandemic, it will provide its team greater flexibility by allowing them to work from the office and from home on a flexible basis.
SECOR said this flexible combination would maximise the benefits to both its staff and clients.
The firm said it had been encouraged by how well its staff have adapted to servicing its clients from home but added it believed that "office interactions remain instrumental to developing the best solutions for our clients and fostering the development of our talented next generation".
SECOR said it is currently looking for new London office space to accommodate its growing team in the city and is leveraging technology solutions to improve the experience for its staff and clients.
SECOR partner and head of its London office Kam Chang explained: "While working from home has provided many new benefits that are here to stay, we are excited to have people back in the office and re-engage with many of the social interactions we have missed in recent months - including afterwork gatherings, in person client meetings, teambuilding events, and our charitable initiatives."
Last updated: 28 July 2021.
Willis Towers Watson
Willis Towers Watson said it was waiting for a "more suitable time" to communicate more permanent working policies - noting the degree of uncertainty around the pandemic at present. The firm did, however, reiterate its current flexible/remote working guidance and set out its overall ambition for the future.
A spokesman said: "Our office space is open to all colleagues who feel comfortable taking advantage of it, but those who are working effectively from home are free to continue to do so.
"Remote working has provided many of us with flexibility to better balance personal and professional commitments. As we expand office capacity, we are not looking to go back to a less flexible way of working. Rather, we are looking to support a more diverse set of working styles than we were able to before."
Last updated: 21 July 2021.
XPS Pensions Group
XPS is piloting a fully-flexible working policy that allows its 1,300 strong workforce to choose where they work.
The initiative - called My XPS, My Choice - has been developed following consultation with staff and allows every employee to choose between office working, home working or a flexible model which allows them to develop their own arrangement, including working from a different location each day.
The consultation exercise was launched in response to the second lockdown to explore how staff preferred to work. The results revealed there was no consensus view, but that employees felt their working environment had a significant impact on their mental health and productivity.
XPS co-chief executive Paul Cuff said: "We have seen a number of organisations announce a one-size-fits-all policy over the past few months. Having spoken to XPS employees, we received a clear signal that our approach needs to recognise and support each individual's situation.
"Our policy reflects the trust we have in our people that they know how they work best. We want our people to feel empowered and motivated to serve our clients brilliantly. As we continue to grow the XPS team, we're extremely excited to offer this level of flexibility."
The company will introduce the policy on a trial basis between August and December 2021, before reviewing its success and will obtain feedback from employees and clients throughout the trial period.
XPS general counsel and company secretary Zoe Adlam added: "The health and wellbeing of our people has never been more important and there is a clear link between this and how we perform as a business and the service we provide to clients. We recognise that post-Covid, people want to work in diverse ways and our move to a fully flexible model enables us to support this diversity."
Last updated: 30 March 2021. See: https://www.professionalpensions.com/news/4029233/xps-trial-model-following-covid-19