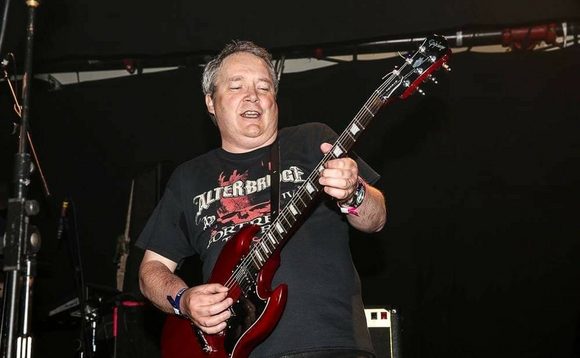 A collective of musicians from 3173 Group – the umbrella firm which includes Dalriada Trustees, Spence & Partners and Mantle Services – have re-formed their band, RunGMP, to launch an album, Subterranean Lockdown Blues.
The band first formed to play at Mallow Street Rocks in 2013 but got back together during lockdown.
Musicians from the company's offices across the UK, including Belfast, Bristol, Glasgow and Leeds, submitted individual performances via an app called Garage Band. The tracks were then produced to re-create classic hits such as Dusty Springfield's Son of a Preacher Man, John Lennon's Imagine and Neil Young's Heart of Gold.
The album is now available to download on major streaming websites such as Apple Music, Spotify, and Deezer.
All proceeds from streaming or downloading the album will be donated to Nordoff Robbins, a charity dedicated to investigating the impact that music therapy can have for those affected by life-limiting illness, isolation or disability.
Since releasing its first single of the album, Sound of Silence, which features up-and-coming singer/songwriter Amy Baillie, the track has appeared on local radio stations Celtic Music Radio and River Radio. The song was even featured as the first track on BBC Radio Scotland's Upload feature, showcasing local musicians in lockdown.
Professional pension trustee and musician Mike Crowe said: "We got the band back together in 2020 as a collective to allow everyone to come together creatively and have a chance to participate in recording songs they liked. Everything has been done remotely with no two musicians recording at the same time or in the same place."
Neil Copeland, the professional trustee who is a founding member of RunGMP, added: "After a sell-out performance at Mallow Street Rocks in 2013 the band took a bit of a back burner for trustee board meetings and actual GMP equalisation work.
"With everyone stuck at home during lockdown we wanted to give the band a new source of life and invited everyone in the company to take part."
The band included: Angela Burns, consulting actuary at Spence & Partners; Neil Copeland, professional trustee at Dalriada Trustees; Ian Craig, formerly a pension consultant at Spence & Partners; Mike Crowe, professional trustee at Dalriada Trustees; Mikey Crowe; Graeme Cunningham, professional trustee at Dalriada Trustees; Serena Gardner, business support assistant at 3173 Group; Viki Getty, learning and development partner at 3173 Group; Jo Harris, professional trustee at Dalriada Trustees; Adrian Kennett, director at Dalriada Trustees; Cara Murdock, business support at Dalriada Trustees; Brian Pacer, pension administrator for irregular schemes at Dalriada Trustees; and Gabi Watt, senior pensions administrator at Spence & Partners.
Credits for the new album include:
Intro
Guitars/Keyboards/Drum Machine Programming : Mike Crowe (Glasgow)
Guitars: Neil Copeland (Belfast)
Live Drums: Mikey Crowe
The Island
Vocals: Graeme Cunningham (Glasgow)
Guitar/Keyboards: Mike Crowe (Glasgow)
Guitar: Neil Copeland (Belfast)
Bass Guitar: Ian Craig (Glasgow)
Drum Machine Programming: Mike Crowe
Nutbush City Limits
Vocals: Viki Getty (Glasgow)
Guitars/Bass/Keyboards: Mike Crowe (Glasgow)
Drums: Mikey Crowe
Heart of Gold
Vocals: Brian Pacer (Belfast)
Guitar: Serena Gardner (Glasgow)
Guitar/Bass: Mike Crowe (Glasgow)
Drums: Mikey Crowe
Imagine
Vocals: Angela Burns (Glasgow)
Keyboards/Bass: Mike Crowe (Glasgow)
Drums: Mikey Crowe
Son of a Preacher Man
Vocals: Gabi Watt (Glasgow)
Backing Vocals: Cara Murdock (Belfast)
Guitars/Keyboards: Mike Crowe (Glasgow)
Bass: Andy Stears
Drums: Mikey Crowe
Supersonic
Vocals: Adrian Kennett (Bristol)
Guitar/Keyboards: Mike Crowe (Glasgow)
Guitar: Neil Copeland (Belfast)
Guitar: Serena Gardner (Glasgow)
Bass: Ian Craig (Glasgow)
Drums: Mikey Crowe
When September Ends
Vocals: Graeme Cunningham (Glasgow)
Guitar/Keyboards: Mike Crowe (Glasgow)
Guitar: Neil Copeland (Belfast)
Bass: Mike Selby (Glasgow)
Drums: Mikey Crowe
Bad Guy
Vocals: Viki Getty (Glasgow)/Gabi Watt (Glasgow)
Guitar/Keyboard/Backing vocals: Mike Crowe (Glasgow)
Bass: Andy Stears
Drums: Mikey Crowe
Baby One More Time
Vocals: Brian Pacer (Belfast)
Backing vocals: Amy Baillie
Guitar: Neil Copeland (Belfast)
Guitar: Jo Harris (Leeds)
Guitar: Serena Gardner (Glasgow)
Bass: Mike Crowe (Glasgow)
Drums: Mikey Crowe
Feeling Good
Vocals: Viki Getty (Glasgow)
Guitar: Neil Copeland (Belfast)
Guitar: Serena Gardner (Glasgow)
Bass/Keyboards: Mike Crowe (Glasgow)
Drums: Mikey Crowe
The Sound of Silence (RunGMP feat. Amy Baillie)
Vocals: Amy Baillie
Keyboards/Guitar/Backing Vocals: Mike Crowe (Glasgow)