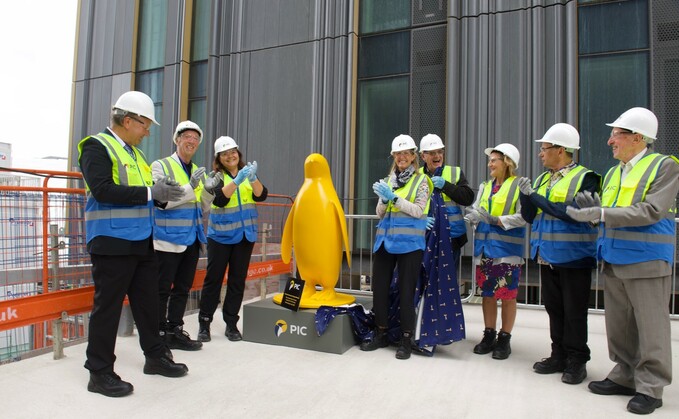 Pension Insurance Corporation has announced the topping out of construction at its New Victoria build-to-rent (BTR) development in Manchester.
The insurer said that, once complete, the project - developed in association with urban regeneration firm, Muse Developments, and contractor VINCI Building - would help pay the pensions of its 300,000 policyholders, some of whom attended the topping out, over future decades
The development has been supported by Network Rail, Manchester City Council and Homes England.
The topping out was marked by a ceremony yesterday (6 July) with senior leaders from Manchester City Council and Homes England along with PIC chief executive Tracy Blackwell and representatives from Muse Developments and VINCI Building.
PIC invested £130m to fund the construction of New Victoria, its first BTR project, in September 2020. The development has repurposed a former car park adjacent to Manchester Victoria station, generating what it said was considerable social value.
It said the development, once considered unviable due to a Victorian culvert running under the site, showcased what is possible through close collaboration between a long-term investor, developer, contractor and the local authority.
PIC chief executive Tracy Blackwell said: "We're incredibly proud to mark the topping out of our first Build-to-Rent development. Not only has this development incorporated leading design features including on safety and environmental standards, it has also seen the creation of considerable social value through jobs and education."
She added: "PIC has invested £600m so far in similar projects around the country, and we look forward to investing considerably more as our business continues to grow and we seek to back the pensions of our policyholders with long-term, secure cashflows."
PIC said that, over the course of the development, more than £40m had gone directly into Greater Manchester's economy through local employment, businesses and material sourcing.
It said the development employed 550 people during construction - adding that, in total, more than 2,000 people will have worked directly on the project and 3,000 apprentice weeks would be run over the course of the construction.