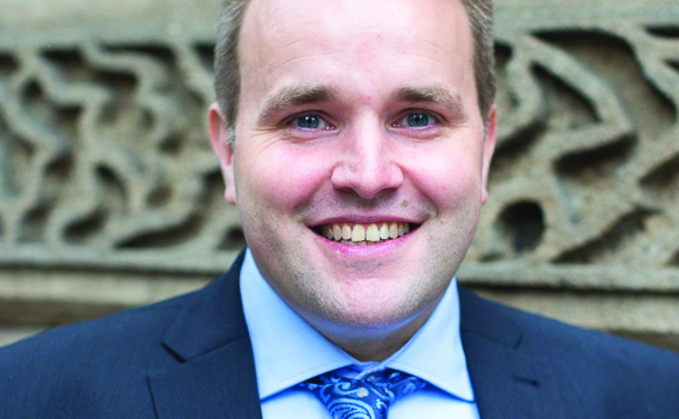 This week's appointments included hires at Dalriada Trustees, Standard Life and XPS Pensions Group.
Dalriada hires professional trustee
October 7, 2:23PM
Dalriada Trustees has appointed Paul Brine as a professional trustee.
Brine has more than 16 years' experience as a trustee and has served on a variety of schemes ranging from £50m in assets to £3.5bn.
Previously he was a managing director in fixed income and derivatives at Credit Suisse, and also previously worked at J.P Morgan.
Dalriada managing director Chris Roberts said: "We are excited to have Paul join Dalriada - him joining illustrates our commitment to investing in experienced professionals with a highly complementary skillset.
"Paul's extensive experience as a trustee and his proven track-record in investment and risk management will enable him to make valuable contributions to our team, to the benefit of our clients and members."
Brine added: "In the increasingly complex world of scheme governance and an ever-changing wider financial market, I look forward to collaborating with my colleagues to deliver the highest level of service for the broadest range of pension schemes."
By Holly Roach
Standard Life adds to independent governance committee
October 7, 10:09AM
Standard Life has appointed Rachel Haworth, Jo Hill and Andrew Milligan to its independent governance committee (IGC).
The trio bring a range of experience to the firm. Haworth joined the IGC in August and was most recently a customer experience director for Coventry Building Society and has also worked for HSBC First Direct. She replaces Venetia Trayhurn, who steps down in November.
Hill was executive director for strategy and risk at The Pensions Regulator between 2018 and 2021 and was also previously a director of market intelligence, data and analysis at the Financial Conduct Authority. She replaces Sheila Gunn who has retired from the committee.
Milligan has 35 years' experience in financial markets, having previously worked at Aviva Investors as head of economic research and business risk, and also held the role of head of global strategy at Standard Life Investments. He joined in June and is replacing Ingrid Kirby who will retire from the committee in September.
IGC chair David Hare said: "As I welcome the new members to our harmonised IGC, I'd also like to thank Sheila Gunn, Ingrid Kirby, and Venetia Trayhurn for their service in advancing the interests of scheme members.
"We have recruited strongly, and I am delighted with the calibre of the new appointees to the committee. Their collective skillset and track-record demonstrates a quality and energy that matches the ambitious drive and focus of the Standard Life business colleagues with whom we work alongside to secure the best outcomes for scheme members."
By Holly Roach
XPS hires head of manager research
October 6, 12:14PM
XPS Pensions Group has appointed Faye Clark as head of manager research.
Clark previously held roles as Isio including executive consultant, head of fiduciary management research, and principal consultant.
Prior to this she worked at KPMG UK for nine years in multiple senior roles.
She was also previously an investment analysis in Mercer's performance reporting team.
In a post on LinkedIn Clark said: "I'm very excited for this next chapter!"
By Holly Roach
Pi Partnership selects new CEO
October 6, 12:14PM
Pi Partnership Group has appointed Simone Lavelle to its board as its new chief executive (CEO).
Lavelle was previously a partner at Avida International and prior to this she was a director and trustee at Law Debenture.
She was also previously chief operation officer at Cardano.
Commenting on her appointment she said: "I see this as the start of an exciting new chapter. It is a privilege to be appointed as CEO to an employee-owned business that delivers quality and professionalism to all of its clients with an excellent reputation within the pension industry based on integrity and competence.
"I look forward to building upon its success and meeting clients and advisers as soon as possible."
By Holly Roach
Hymans Robertson selects partner and risk transfer specialist
October 6, 9:35AM
Hymans Robertson has expanded its risk transfer team with the appointment of Lara Desay as partner and risk transfer specialist.
Desay joins the firm from Scottish Widows where she was head of origination and operations for their bulk annuity team.
She also led the execution of Scottish Widows' £800m buy-in with the Littlewoods Pension Scheme, as well as its £510m transaction with the Aon Retirement Plan.
Partner and head of risk transfer solutions James Mullins said: "We are thrilled to welcome Lara to Hymans Robertson and I know she will be a brilliant addition to our risk transfer team with her impressive transaction experience.
"The continued growth of our team will enable us to help even more pension schemes to insure their liabilities through buy-ins, buy-outs, longevity swaps and other alternative forms of risk transfer."
Desay added: "I am really pleased to be joining Hymans Robertson at such an exciting time for the risk transfer team, and the market more broadly as we head into a busy period for buy-in transactions."
By Holly Roach
HSBC Tomorrow Master Trust appoints head of business development
October 5, 3:07PM
HSBC Retirement Services, who manage the HSBC Tomorrow Master Trust, has selected Nic Jones as head of business development.
Jones brings more than 20 years' experience in investment banking and is currently a business specialist at ITM.
He also previously spent ten years in HSBC Global Banking and Markets division advising pension funds on hedging strategies and providing execution solutions.
Jones is also currently a member of the Pensions Administration Standards Association's data working group.
Commenting on his appointment, Jones said: "I am delighted to be joining the innovative team at HSBC Retirement Services. They have left no stone unturned in their design and build of HSBC Tomorrow, with robust governance and comprehensive, cost-effective solution with their agile, outsourced model.
"Designing a responsible investment strategy and providing flexible options for members, allowing individually tailored pension savings, as well as a complete to and through retirement solution, employers can be sure of a pension solution fit for now and the future."
By Holly Roach
Sackers appoints three new associates
October 5, 10:17AM
Law firm Sackers has appointed Sam Taylor, Bethan Rowlands and George Carr as associates, as part of business expansion.
Taylor joins from Freshfields where he trained and qualified in 2018. Rowlands joins from Norton Rose Fulbright, having qualified in 2017, and Carr joins from Mayer Brown where he also qualified in 2017.
At Sackers, the trio will advise trustees and employers on a broad range of defined benefit and defined contribution issues, including benefit changes, mergers and scheme closures, and risk transfer projects.
Senior partner David Saunders said: "We continue to experience high demand from clients for our specialist model of delivering cost-effective, high-quality advice so it is vital that we maintain our strength at all levels of seniority in order to meet their needs.
"We are delighted that Sam, Bethan and George have made the decision to continue their careers at Sackers and look forward to supporting their development and investing in their future."
By Holly Roach
EY appoints long-term partner from PwC
October 5, 10:17AM
EY has appointed Paul Kitson as a partner, moving from PwC where he was a partner for ten years.
Prior to joining PwC in 2012, Kitson was a managing director at Nomura International and prior to this he was a senior consultant at WTW (then Towers Watson).
He was also previously a consultant at Aon.
By Holly Roach
SECOR Asset Management appoints Phil Redding as senior advisor
October 4, 5:13PM
SECOR Asset Management has boosted its UK team with the appointment of Phil Redding as senior advisor.
Redding has held a range of positions across both business development and consulting and brings with him over 40 years of pension and investment experience.
Most recently, he was executive director at Cardano. Prior to that he was head of business development EMEA at Aviva Investors and has also worked at Credit Suisse, Zurich, CIS and Scottish Mutual. His formative years were spent as a pension consultant at Hogg Robinson Benefit Consultants.
SECOR managing principal Tony Kao commented: "The UK fiduciary market is an exciting space to be operating in. With more schemes seeing the benefits a fiduciary partner can bring, and even more testing the market with retendering, it has heightened the quality that schemes, quite rightly, are expecting.
"Through challenge comes innovation. Our team has always prided ourselves on combining our years of in-house pension scheme management with new and innovative ideas to create truly individual solutions. We are fully committed to the UK market since joining in 2011 and we will continue to appoint expert individuals, like Phil, to work alongside us and challenge our thinking. Phil is very well known and respected in the pension and fiduciary space, with a wealth of experience and knowledge. We are looking forward to working with him to further enhance our capabilities."
Redding added: "I'm looking forward to contributing to SECOR successfully growing their presence in the UK market and supporting, helping and working within an excellent team. Their skill set, background and experience, especially their history as an in-house pension scheme manager, coupled with their subsequent evolution and development, make them ideal for the UK market."
Redding's appointment follows that of Jason Allan as head of UK distribution announced in July.
By Jonathan Stapleton
Just Group hires head of DB sales
October 4, 2:15PM
Peter Jennings has been promoted by Just Group to head of defined benefit (DB) sales.
Jennings has been at the firm since 2012 in a number of roles including business development manager and pricing consultant, with responsibility for delivering buy-in and buy-out solutions for the trustees of DB schemes.
Prior to joining Just Group, he was product and group development manager at Foresters.
By Holly Roach