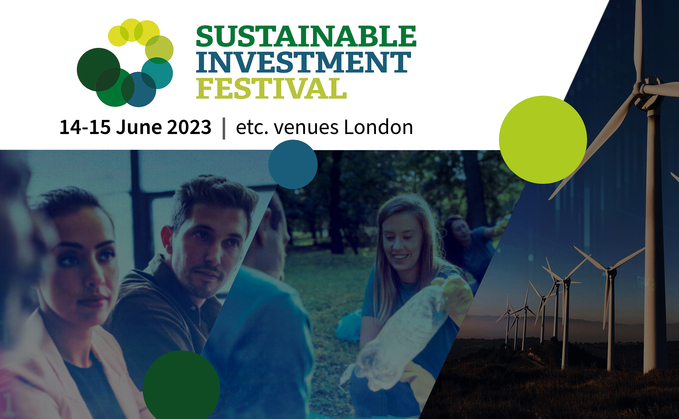 Professional Pensions' publisher, Incisive Media, has announced the programme for this year's Sustainable Investment Festival.
The programme can be viewed in full here.
This year's festival will be held in London on 14-15 June. It will include sessions from sustainable specialists from across the investment industry and beyond - discussing the pressing issues of the moment, such as how the Sustainable Disclosure Requirements can best be implemented, the role of natural capital in delivering prosperity, how to effect change through investor engagement and how fund development is evolving.
At the event, trustees, pension professionals, financial advisers and fund selectors will also have the opportunity to attend breakout sessions drilling down into matters such as how to conduct due diligence on ESG strategies, addressing the pensions gender gap, examining how to support the climate transition in emerging markets, and considering advisers' use of behavioural science to engage with clients.
Both days of the popular event will be rounded out by presentations from our keynote speakers - author and TV presenter Simon Reeve and chairman of The Big Issue Group Nigel Kershaw OBE.
Reeve has travelled extensively in more than 110 countries, across jungles, deserts, mountains and oceans, and to some of the most dangerous and remote regions of the world, while Kershaw has created, built and scaled social enterprises and social investment since 1974.
Speakers at the Sustainable Investment Festival will include experts and practitioners leading the way in navigating the fast-changing environment and helping drive change, and will include:
Bella Landymore, joint interim CEO at the Impact Investing Institute
Dr Ben Caldecott, director of the Oxford Sustainable Finance Group at the University of Oxford's Smith School of Enterprise and the Environment
Bev Shah, chief executive and founder of City Hive
Caroline Escott, senior investment manager at Railpen
Catherine Howarth, chief executive of ShareAction
Gavin Corr, global head of manager selection and due diligence services at Morningstar
Hortense Bioy, global director of sustainability research at Morningstar
James Alexander, CEO of UKSIF
Joana Pedro, social lead at the UNEP Finance Initiative
Julia Dreblow, founding director of SRI Services
Mark Manning, technical specialist for sustainable finance and stewardship at the Financial Conduct Authority
Dr Rhian-Mari Thomas OBE, chief executive of the Green Finance Institute
The two-day event is CPD accredited. For more information and to register your place for the Sustainable Investment Festival, please click here.