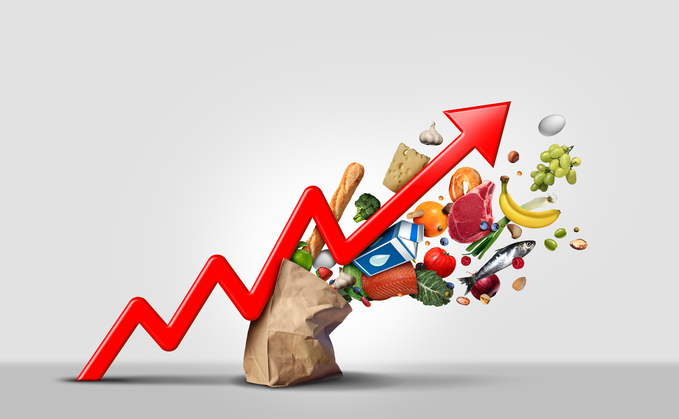 UK inflation failed to fall to single digits in March, dipping to 10.1% from its surprise jump to 10.4% in February, data from the Office for National Statistics reveals.
The statistics body's data showed the Consumer Prices Index came in higher than expected, with economists having predicted a would fall to 9.8%, although it remains down from the 41-year high of 11.1% set in October 2022.
On a monthly basis, CPI rose by 0.8% in March, compared with a rise of 1.1% in March last year.
The Consumer Prices Index including owner occupiers' housing costs (CPIH) rose by 8.9% in the 12 months to March 2023, down from 9.2% in February.
On a monthly basis, CPIH rose by 0.7% in March 2023, compared with a rise of 0.9% in March 2022.
The ONS said the main drivers of the annual inflation rate for CPIH and CPI are the same where they are common to both measures but noted the owner occupiers' housing costs (OOH) component accounted for 16% of the CPIH and is the main driver for differences between the CPIH and CPI inflation rates.
The easing in the annual inflation rate in March 2023 mainly reflected price changes in the transport division, particularly for motor fuels. There were also downward effects from housing and household services, furniture and household goods, clothing and footwear, and restaurants and hotels. These were partially offset by upward effects coming from food and non-alcoholic beverages, and recreation and culture.
Food and non-alcoholic drink prices were the key driver of inflation, rising by 19.2% in the year to March, up from 18% in February.
Core CPI, which excludes food, energy, alcohol and tobacco, came in at 6.2%, the same reading as last month, showing UK inflation remains sticky.
The ONS said the Retail Price Index (RPI) - a measure which is no longer an official statistic - was 13.5% in March, down from 13.8% in February.
Impact on DB schemes
XPS Pensions Group said longer term expectations of inflation have remained broadly unchanged over the previous month with future, further falls in inflationary growth already priced in.
As a result it said today's announcement was unlikely to have a material impact on pension schemes' funding levels.
XPS Pensions Group senior consultant Charlotte Jones said: "Although long-term inflation expectations have remained unchanged over the previous month, market conditions for defined benefit pension schemes are significantly more favourable today than they were a year ago.
"XPS's DBUK funding tracker estimates funding improvements of around £270bn in aggregate over the last year driven by the significant changes in long-term inflation and interest rate expectations. However, individual schemes will be impacted differently. With some relative stability in market conditions, it is important that schemes assess their funding position and opportunities to re-shape their long-term strategies."
The impact on rates
Despite this, RI Wealth Management portfolio manager Tom Hopkins said today's "disappointing" inflation figure could raise expectations for another rate rise from the Bank of England on 11 May.
J.P. Morgan Asset Management global market strategist Hugh Gimber agreed, saying another 25 basis point rate hike appeared highly likely in May.
"The Bank must stand ready to take further action unless economic data shows more definitive signs of cooling," he said. "Policymakers have come a long way in their fight against inflation. Going forward, the biggest mistake would be to claim victory prematurely.
"Headline inflation in the UK is once again heading in the right direction, yet the Bank of England is still a long way away from being able to feel comfortable that price pressures are under control."
Quilter Investors chief investment officer Marcus Brookes said that with the headline rate of inflation eventually coming down to "hopefully more palatable levels", there will be "an increased focus on what is going on under the bonnet with core inflation".
"This measure failed to shift in March and this will be a real concern to the BoE," he said. "Should that fail to fall meaningfully in the next couple of months, then more aggressive monetary policy from the BoE may be required yet again."