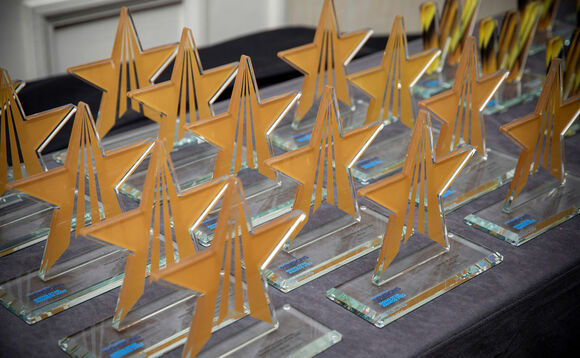 Here it is…The full list of the individuals and organisations that have been nominated for the 4th annual Rising Stars Awards.
Congratulations to all the individuals and organisations that were nominated.
Professional Pensions will now be contacting those who have been nominated who will be asked to complete a questionnaire, which is required to progress to the next round.
Nominees will be contacted shortly with details of the categories they have been nominated in, as well as the next steps in the process.
The deadline for the questionnaire to be submitted is 16 June.
An expert panel of judges will decide the winners in each category taking into account achievements in the workplace/role, challenges faced, evidence of contributions to support and inspire those beginning their career in pensions, and the overall quality of the submission.
To find out more about the awards, criteria and categories, visit the PP Rising Star Awards website.
The individual category nominees are as follows:
A-D
Aaron Morris (Barnett Waddingham), Aaron Chand (Broadstone), Abbie McColl (Broadstone), Abbie Rice (Barnett Waddingham), Abi Sode (Smart Pension), Abigail Lewis (Aon), Abigail Carter (Scottish Widows), Abigail Cohen (Standard Life), Abigail Sheridan-Toombs (Storebrand Asset Management), Adam Baksh (Isio), Adam Dann (Pension Insurance Corporation), Adam Fisher (Hymans Robertson), Adam Lickorish (RSM), Adam Potter (Capita), Adele Ray (Legal & General Investment Management), Aditya Yanamandra (Mercer), Adun Obadeyi (EY), Agrata Garg (Grant Thornton UK), Aidan West (Spence & Partners), Ailidh Mackichan (Lane Clark & Peacock), Alan Greenlees (Zedra Governance), Aleksandra Kalinowska (CMS), Alex Davis (Hymans Robertson), Alex Roberts (XPS Pensions Group), Alex Snowball (Legal & General Investment Management), Alex Westenberger (Lane Clark & Peacock), Alexandra Whitehead (Smart Pension), Alice Carter (CMS), Alice Dymond (Broadstone Consultants & Actuaries), Alice Lane (RSM), Amanda Kuczaj (PwC), Amber Holland (WTW), Amelia Abbott (PwC), Amira Norris (Novia Financial), Amish Mehta (Barnett Waddingham), Amol Chalisgaonkar (Hogan Lovells), Amrit Ghatora (Redington), Amy McQuillan (Aon), Amy Searle (MyCSP), Amy Shooter (RSM), Amy Taylor (Barnett Waddingham), Andre Clark (Redington), Andrew Aston (RSM), Andrew Pont (WTW), Andrew Sheavyn (Smart Pension), Andy Hemming (West Midlands Pension Fund), Andy Dickinson (Buck), Anitha Rajeswaran (XPS Pensions Group), Anjali Patel (Smart Pension), Annabelle Hardiman (IGG), Asha Suresh (Mercer), Asyiqin Radzuan (Lane Clark & Peacock), Beatrix Loveridge (Hymans Robertson), Beau Flanaghan (Broadstone Corporate Benefits), Ben Bailey Conlon (Isio), Ben Farmer (Hymans Robertson), Ben Hodgson (Brightwell), Ben Miller (Scottish Widows), Ben Phipps (Mercer), Benjamin Bryant (Aon), Bernardo Lima (Smart Pension), Beth Duncan (Smart Pension), Bethany Tanner (XPS Pensions Group), Bhawna Gaba (Smart Pension), Brian Kinlan (Aon), Brian Paterson (Legal & General Investment Management), Caitlin Aykroyd (EY), Callum Brown (PwC), Callum Dalton (Barnett Waddingham ), Cameron McCulloch (Pinsent Masons), Camilla O'Brien (XPS Pensions Group), Cara Gordon (Mercer), Caroline Hopper (Quietroom), Caroline Mills (Redington), Carolyn Schuster-Woldan (Redington), Carrie Simpson (Broadstone), Cat Ellis (Weightmans), Catherine Ryder (WTW), Celine Grace Legaspi (Redington), Charlie Parker (Pension Protection Fund), Charlie Lambert (Broadstone Consultants & Actuaries), Charlie Royle (Hymans Robertson), Charlotte (Lottie) Burdon (Brightwell), Charlotte Cartwright (Eversheds Sutherland), Charlotte Heale (Aviva Investors), Charlotte Moss (Pinsent Masons), Charlotte Quarmby (Aon), Chevonne Boxer (Hymans Robertson), Chloe Burton (Aon), Chloe Jones (Broadstone), Chloe Leslie (ndapt), Chris Docherty (RSM), Chris Edwards-Earl (Stephenson Harwood), Christie Cambray (Trafalgar House), Christine Mandeville (Lane Clark & Peacock), Claire O'Neil (Hymans Robertson), Clare Riseley-Tomlins (Grant Thornton UK), Conor Byrne (Broadstone), Csilla Balint (iPensions Group), Dan Meatyard (CMS), Dan Auton (XPS Pensions Group), Dan Elliott (Barnett Waddingham), Dan Gilmour (IGG), Daniel Brown (Mercer), Daniel Pemberton (Buck), Danielle Feingold (WTW), Danielle McLelland (Spence & Partners), Dav Bhabra (Barnett Waddingham), David Fargie (RSM), David Goldberg (Cardano Risk Management), David Penson (Lane Clark & Peacock), David Simpson (Barnett Waddingham), David Thompson (Aon), Debbie Sheffield (Scottish Widows), Deepali Shah (Hymans Robertson), Dhanisha Sanghrajka (Government Actuary's Department), Dominika Gasiorowski (CMS), Duncan Watson (Mayer Brown International), Dweenisha Caleechurn (PwC), Dylan Dixon (Barnett Waddingham)
E-H
Ed Beavis (Dalriada Trustees), Edward Austin (People's Partnership), Edward Burns (Aon), Edward Siddeley (Cardano), Eilidh Watson (WTW), Elaine He (CMS), Ele Lovering (Eversheds Sutherland), Elena Puiu (WTW), Elisabeth Cook (Grant Thornton UK), Elizabeth Wise (Barnett Waddingham), Ellie Armstrong (Barnett Waddingham), Ellie Jackson (Aon), Elliott Bedford (RSM), Emei Hong (Cardano Risk Management), Emi Ivan (Hymans Robertson), Emily Clinton (Smart Pension), Emily Cullen (Cardano), Emily Eccles (MyCSP), Emily Savory (RSM), Emma Anderson (Vidett), Emma Birch (Lane Clark & Peacock), Emma Coleman (XPS Pensions Group), Emma Foster (Hymans Robertson), Emma Gourdie (Barnett Waddingham), Emma King (Eversheds Sutherland), Emma Spender (Broadstone Consultants & Actuaries), Esme Llyold (Buck), Esme Mason (XPS Pensions Group), Estella Bogira (Stephenson Harwood), Euan McKean (Lane Clark & Peacock), Farhin Yasmin (Lane Clark & Peacock), Fatima Bawa (Government Actuary's Department), Fay Robinson (Dalriada Trustees), Faye Clark (XPS Pensions Group), Fern Osborne (Lane Clark & Peacock), Fiona Carr (RSM), Fiona Hardaker (Lane Clark and Peacock), Fiona Smith (Smart Pension), Fiona Wood (Barnett Waddingham), Fizza Qasim (Vidett), Fraser Weir (XPS Pensions Group), Fred Yu (RSM), Freya Stuart (Eversheds Sutherland), Gary Grewal (RSM), Geordie Cox (Cardano), George Breakwell (Broadstone Corporate Benefits), George Currie (Lane Clark & Peacock), George Walles (XPS Pensions Group), Georgia Bennett (People's Partnership), Georgina Cooper (Newton Investment Management), Georgina Barker (RSM), Georgina Davies (Lane Clark & Peacock), Georgina Fogarty (Barnett Waddingham), Georgina Gayles (Aon), Georgina Wallis (London Stock Exchange Group), Georgine Suleman (Broadstone), Gerald Wu (Local Pensions Partnership Investments), Gerard McKenna (Aon), Gerry Wilson (Isio), Gilad Isman (Lane Clark & Peacock), Grace Holtom (Barnett Waddingham), Greg Robertson (WTW), Hadassah Shulman (CMS), Haig Stringer (Pension Protection Fund), Hannah Oakton (RSM), Hannah Brinton (Aon), Hannah Edwards (XPS Pensions Group), Hannah English (Hymans Robertson), Hannah Oakton (RSM), Hannah Rhodes (Broadstone Consultants & Actuaries), Hannah Smithson (Barnett Waddingham), Hannah Swinbourne (Broadstone), Harriet Burchett (Eversheds Sutherland), Harriet Dammone (CMS), Heather Brown (Lane Clark & Peacock), Helen Hord (RSM), Helen Billing (XPS Pensions Group), Helen Davies (XPS Pensions Group), Helen Murphy (Pinsent Masons), Helena Demetriou (Cardano Risk Management), Hettie Scriven-Seager (Legal & General Investment Management), Holly McArthur (Lane Clark & Peacock), Hugo Harrison (Rothesay), Humphrey Galbraith (WTW)
I-L
Ian Bell (RSM), Idil Gencosmanoglu (Smart Pension), Inderjoht Nahal (RSM), Ioana Manole (Cardano Risk Management), Iona Young (Redington), Isla Gamble (Hymans Robertson), Jack Brammar (XPS Pensions Group), Jack Cato (WTW), Jacob Bowman (Isio), Jake Bedford (Barnett Waddingham), Jake Dascombe (Government Actuary's Department), Jake Hubbard (Broadstone), Jake Liddington (Barnett Waddingham), James Derry (Penny), James Ellis (Eversheds Sutherland), James Johnston (XPS Pensions Group), James Lawrence (Smart Pension), James Lindley (Broadstone), James Reid (LEBC Group), Jamie Kimber (WTW), Jay Malkani (Isio), Jed Newton (WTW), Jennie Adams-Fossey (Pinsent Masons), Jennifer Brooks (Pension Protection Fund), Jennifer Davidson (Lane Clark & Peacock), Jess Fay (Retirement & Superannuation Solutions, Link Group), Jessica Breakwell (Barnett Waddingham), Jessica Stokes (Broadstone), Jim Heal (XPS Pensions Group), Jo Hernandez (RSM), Joe Peach (Local Pensions Partnership Investments), Joe Pope (Brightwell), Joelle Hernandes (RSM), Johnathon Adams (XPS Pensions Group), Jonathan Heston (XPS Pensions Group), Jordan Gibbons (AIrsports Insurance Bureau), Jordan Griffiths (Barnett Waddingham), Josh Bateman (Broadstone Consultants & Actuaries), Josh Rushby (Aon), Joshua McCann (XPS Pensions Group), Joshua Pandolfino (Barnett Waddingham), Josie Gold (Pension Protection Fund), Julia Carter (Local Pensions Partnership Investments), Julia Fox (Quietroom), Julia French (Local Pensions Partnership Investments), Jun Nakamaru-Pinder (WTW), Karen Boyle (Smart Pension), Karen Kirkpatrick (EY-Parthenon), Karyn Cooke (Hymans Robertson), Kate Bailey (Squire Patton Boggs), Kate Enevoldson (WTW), Kate Leigh (Vidett), Kate Ross (Smart Pension), Katherine Harnett (CMS), Katie Walker (Lane Clark & Peacock ), Katie Lodge (Pinsent Masons), Katie Powe (Broadstone Consultants & Actuaries), Katie Seggons (Buck), Kerry Milne (RSM), Kevin Eastwood (Local Pensions Partnership Investments), Kinna Patel (Legal & General Investment Management), Kiran Mandalia (WTW), Kleopatra Diamanti (Local Pensions Partnership Investments), Konstantin Basio (Basio), Kristina Williams (Pension Protection Fund ), Kunal Sharma (Barnett Waddingham), Kymani Watson-Samuels (Pension Protection Fund), Lance Jones (Smart Pension), Laura Brook (Eversheds Sutherland), Laura Hain (RSM), Laura Tuffnell (Broadstone Corporate Benefits), Laura-Ann Boam (WH Smith), Lauren Bennett ( Sparks), Lauren Branney (Hymans Robertson ), Lauren Branton (Zedra Inside Pensions), Lauren Campbell (XPS Pensions Group), Lauren Holden (Broadstone), Lauren Saini (Aon), Laurie Jones (XPS Pensions Group), Leah Magee (XPS Pensions Group), Lee Byers (MyCSP), Lee Murray (Smart Pension), Lewis Drew (IGG), Liam Dillon (Isio), Liam Goulding (Sackers), Liam Kellett (Mayer Brown International), Liam O'Neill (RSM), Lily Fowler (Aon), Lindsay Sadler (Mercer), Lisa Varley (Aon), Lizzie Hunt (Barnett Waddingham), Lorna Auger (Alltrust Services), Loui Quelcutti (XPS Pensions Group), Louis Dent (Pension Protection Fund), Louisa Young (XPS Pensions Group), Louise Millar (Buck), Lucy Kerley (Zedra Inside Pensions), Lucy Bignell (Barnett Waddingham), Luke Thaxter (WTW), Luke Dodd (Broadstone), Luke Evans (Broadstone), Luke Hothersall (Lane Clark & Peacock), Luke Stoker (Barnett Waddingham), Luke Wheeler (Barnett Waddingham)
M-P
Madhurima Ravishankar (RSM), Malwina Stugala (Hymans Robertson), Mannie Allot (Mercer), Mara Aleixo (Government Actuary's Department), Marcin Balawender (Dalriada Trustees), Marcus Pollitt (Aon), Maria Protopapa (WTW), Mark Fenlon (Standard Life), Mark Ng (Redington), Mark Ormston (Retirement Line), Martina Megasari (Smart Pension), Mary McLeod (XPS Pensions Group), Mat Witherwick (Lane Clark & Peacock), Matt Garner (WTW), Matt Jarvis (XPS Pensions Group), Matt Pridding (Zedra Governance), Matt Richards (Standard Life), Matthew Harrison (Broadstone), Matthew Smith (Isio), Max Thomas (Lane Clark & Peacock), Michael Robinson (Aegon), Michael Jones (Eversheds Sutherland), Michael Sargent (Broadstone Corporate Benefits), Michael Wells (Lane Clark & Peacock), Michael Yeouart (Baker McKenzie), Mike Harmer (RSM), Mike Kippax (PwC), Miles Wilde (Barnett Waddingham), Mitesh Sheth (Newton Investment Management), Monika Gagat (Squire Patton Boggs), Mustafa Qureshi (Redington), Naina Gajjar (Smart Pension), Nancy Kiwanuka (Smart Pension), Natalie Pike (PSG SIPP), Natalie Shakeshaft (Broadstone), Nathan Bench (XPS Pensions Group), Nathaniel Martin (XPS Pensions Group), Nicholas Chadha (PAN Trustees), Nicki Dyson (Smart Pension), Nicola Stone (Sparks), Nicole Rowe (Smart Pension), Nikesh Lad (Government Actuary's Department), Nikki Ayriss (Lane Clark & Peacock), Nirojana Shanthakumar (WTW), Nonso Ebere (Smart Pension), Oanh Tran (LGPS Central), Olasumbo Biobaku-Mason (Legal & General Investment Management), Oliver Hook (Hymans Robertson), Oliver Lee (Barnett Waddingham), Olivia Atkinson (Rothesay), Oscar Munslow (WTW), Panashe Bera (Van Lanschot Kempen), Patrick Singleton (XPS Pensions Group), Paul Ashcroft (Wedlake Bell), Paul Dunne (XPS Pensions Group), Paul Heaney (Aon), Pedro Gomes (Smart Pension), Peter Johnson (Mercer), Phil Derbyshire (Brightwell), Polly Cripps (Aon), Preeya Bansal (XPS Pensions Group), Priya Jassal (Isio), Priya Patel (Lane Clark & Peacock)
Q-T
Rachel Kidd (WTW), Rachel Pegrum (Barnett Waddingham), Rachel Roberts (Broadstone), Rachel Titchen (Broadstone), Rachele Carraro (Mintago), Raluca Curca (Hymans Robertson), Ravi Bakrania (WTW), Rebecca Atkinson (Aon), Rebecca McFerran (MyCSP), Rebecca McRoberts (XPS Pensions Group), Rebecca Stirling (RSM), Rebecca Helme (XPS Pensions Group), Rebecca McRoberts (XPS Pensions Group), Rebecca Peake (Aon), Rebecca Stephenson (XPS Pensions Group), Rebecca Stirling (RSM), Rebecca Watson (Legal & General Investment Management), Rebecca Whitehead (Buck), Rhys Mellens (WTW), Richard Bacon (Eversheds Sutherland), Richard Barratt (RSM), Richard Goldring (Smart Pension), Richard Meers (Pinsent Masons), Richard Young (RSM), Rob Phillips (EY), Robert Howitt (Hymans Robertson), Robert Shaw (Hymans Robertson), Robert Williams (XPS Pensions Group), Robin La (Broadstone), Robin Taylor (WTW), Robyn McNab (XPS Pensions Group), Robyn Smith (Broadstone), Rory Tucker (ITM), Ros Wood (Eversheds Sutherland), Rosalind Scott-Douglas (Broadstone), Rosanne Hossack (Zedra Inside Pensions), Ross Breckon (PwC), Rowan Wheatman (Hymans Robertson), Rowena Humphreys (Smart Pension), Rumaanah Fada (Scottish Widows), Ruth Tobias (Pinsent Masons), Ryan Al-Hassani (Aon), Ryan Simmons (RSM), Saanvi Vasudevan (Lane Clark & Peacock), Sacha Kilner (EY-Parthenon), Sachin Patel (Hymans Robertson), Sadie Julienne (Smart Pension), Sally Crudge (Aon), Sam Arnold (Scottish Widows), Sam Atherton (Buck), Sam Norrington (Cardano), Sam Reeve (NOW Pensions), Sameea Patel (Grant Thornton UK), Samuel Hampton (Hymans Robertson), Samuel Fox (Broadstone), Sana Giga (First Actuarial), Sanam Mehta (Redington), Sara Pellicci-Hoppie (Smart Pension), Sarah McDermott (XPS Pensions Group), Sarah Thornton (XPS Pensions Group), Sarah Vanhouse (XPS Pensions Group), Sarban Hoonjan (Isio ), Sasha Francis (Aon), Scott Edmunds (Barnett Waddingham), Shannon Flynn (Broadstone), Shantal Brito (EY), Sharon Jacob (Isio), Shay Owode (Vidett), Sheng Yong (WTW), Silky Gupta (RSM), Simon Cooper (XPS Pensions Group), Simona Scialo (Isio), Sophia Harrison (Vidett), Sophie Robinson (Isio), Sophie Waters (Hymans Robertson), Sophie Barton (Hymans Robertson), Sophie Fisher (Aon), Sophie Harris (Railpen), Sophie Knight (Redington), Stacey Kippax (PwC), Steph Kusalakumar (XPS Pensions Group), Steph McDowell (WTW), Stephen Coleman (Broadstone), Stephen Kyte (Barnett Waddingham), Stephen McIlwraith (Hymans Robertson), Stephen Wood (Buck), Steven Gale (XPS Pensions Group), Stewart Murphy (Pinsent Masons), Suad Ali (Smart Pension), Sunita Northbrooke (Broadstone Consultants & Actuaries), Sveva Ronco (Railpen), Thimal Kollure (Mercer), Thomas Hyde (Michael J Field), Tia Moriarty (RSM), Tianna Patel (Hymans Robertson), Tiffany Honour-Matulewicz (EY), Timon Kotsapas (WTW), TJ Kearney (RSM), Tom Fallon (XPS Pensions Group), Tom Hill (Barnett Waddingham), Tom Manning (RSM), Tom McKenzie (Barnett Waddingham), Tom Peraux (Capita Pensions Solutions), Tori Watson (XPS Pensions Group), Trena Vas (Buck)
U-Z
Vanessa Roberts (IGG), Vanya Mander (Smart Pension), Victoria Sykes (WTW), Victoria Hunter (Spence & Partners), Victoria McAleese (Scottish Widows), Vikram Chatrath (IGG), Viktoria Spittler (Sparks), Warren Coelho (Barker Tatham Investment Consultants), Will Rickard (WTW), Will Aspinall (EY), Will Da Silva (Barnett Waddingham), Will Henderson (Knowa), Will Stobbs (Government Actuary's Department), William Nicholson (Neuberger Berman ), William Platt (Lane Clark & Peacock), Yajur Haria (Redington)
The Team of the Year category nominees are as follows:
Government Actuary's Department McCloud Calculator Team, Hymans Robertson Risk Transfer Team, Lane Clark & Peacock Defined Contribution Team, Lane Clark & Peacock's Trustee Executive Team for the Barnardo Staff Pension Scheme, Link Group's Smart Pension Customer Experience and Administration Team, MyCSP Training Team, Pacific Life Re Longevity Team, Procentia Training Department, PwC Audit of Pensions Team, PwC Project Finch team, RSM Pensions Audit Team, RSM Pensions Audit Team, RSM UK Audit Central/North West Pension Team, Smart Pension - Investment Proposition Team, Smart Pension Investments Team, Standard Life Defined Benefit Solutions Team, WTW Contact Centre Team
The organisational category nominees are as follows:
Aon, Barnett Waddingham, Brightwell, Broadstone, CMS, LGPS Central, Pension Protection Fund, Punter Southall, RSM UK, WTW, XPS Pensions Group