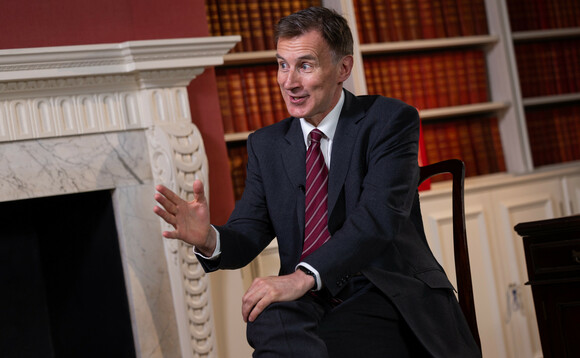 Treasury proposals to extend the Pension Protection Fund's (PPF) remit to allow it to take on a master consolidator role would give flexibility for the sponsors of smaller and struggling defined benefit (DB) schemes, the industry says.
The Financial Times reported yesterday (25 May) that proposals before ministers could see the lifeboat fund given an extended remit so it could take on smaller and poorer performing DB schemes that hadn't failed on a non-compulsory basis.
The article said chancellor Jeremy Hunt was examining the proposals as a way of directing more pension money into start-ups and fast-growing businesses, as well as halting the City of London's decline as a venue for initial public offerings by companies.
Asked to comment on the article, a Treasury spokesperson said the Spring Budget had set out the government's latest package of measures to support increased investment in innovative companies - measures that included an extension of the British Patient Capital programme, and the accelerated transfer of the £364bn Local Government Pension Scheme into pools to increase investment into innovative companies.
The spokesman added the government was working on a further package of measures to bring forward by autumn.
The spokesman said: "We're determined to increase investment into the UK's high growth sectors, ensuring our most cutting-edge businesses can access the finance they need to scale up and list in the UK.
"Unlocking the billions of pounds held in pension schemes across the country is key to channelling capital into productive assets in a way that benefits both businesses and pension holders - powering economic growth and increasing the retirement income of millions of savers."
The PPF said its future role was "a matter for policy makers" but said it "stood ready" to support both the government and industry.
A PPF spokesperson said: "The PPF's future role is a matter for policy makers, but we recognise there are opportunities which could deliver better outcomes for defined benefit scheme members and support the wider economy. Given our proven skills and capabilities, including our investment expertise, we stand ready to support government and industry where PPF could form part of the solution."
Cardano Advisory managing director Alex Hutton-Mills said the thinking behind extending the remit of the PPF to cover DB schemes with stressed corporate sponsors was welcome - especially in an environment with elevated interest rates and inflation, which are increasing the pressure on cash flows of affected businesses.
He said: "A new 'master consolidator' in the PPF would provide flexibility for small schemes or stressed corporate sponsors of DB pension schemes where the funding can be directed at the investment needs of UK plc and elsewhere.
"However, further thought is needed regarding calibration of PPF levy charges given the risk of increased levies for the residual corporate sponsors."
Commenting on Twitter, Pensions and Lifetime Savings Association deputy director of policy Joe Dabrowski pointed out that a broader role was one of the options suggested in the review of the PPF's operations last year.
Despite this, some industry figures questioned how trustees would be able to agree a move to the PPF given the haircut on benefits it applies to those below their scheme's normal pension age.
They added, if some schemes entering the PPF would see either no or a reduced benefit haircut, it would pose difficulties in cases were schemes would end up in the PPF anyway.
Who should benefit?
Lane Clark & Peacock investment partner David Wrigley agreed there were "many more questions than answers" at this stage - including what level of assets would be required to "opt in" to the PPF; whether outstanding recovery plans would be due prior to entry; and whether or not this proposal would reward companies that haven't well-funded their schemes.
Wrigley added it was also unclear whether such proposals could create significant moral hazard risks of schemes adopting very risky strategies, viewing the opt in PPF as a failsafe.
Despite this, Wrigley welcomed questions being asked about whether the DB pension system could be reformed for better outcomes, and agreed the PPF was a successful model that could be built upon to deliver better outcomes.
He said: "This is a fascinating development, and highlights that the mindset across the industry is changing from DB pension schemes being viewed as a problem, to being viewed as an asset. These proposals would represent seismic changes to the UK pensions landscape, with far-reaching implications."
Wrigley added: "We think that DB schemes now present an opportunity to generate substantial excess assets over the long-term, so the obvious question is 'who should benefit?'."
LCP said that under the reported proposals, it seemed as if the Treasury stood to benefit - both in terms of directing investment of large pots of assets, and also presumably with half an eye on an eventual surplus emerging from the PPF.
But Wrigley said there were alternative approaches. He explained: "We have developed an alternative approach where the PPF remains a "backstop", but providing 100% cover.
"Under this model, the benefits of investing DB assets could be shared across DB members, sponsoring employers and the (largely defined contribution) retirement savings of those companies' current workforces."