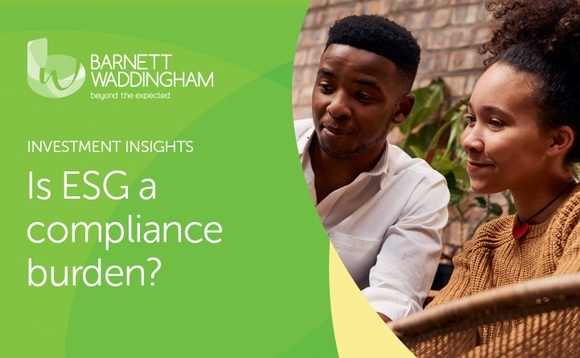 Although no one can be in any doubt about the worsening ecological issues we see in our world today, the role ESG frameworks have to play in combating them has come under scrutiny as of late. Greenwashing scandals, unreliable impact data and the general complexity of environmental investments have made a few people start to see ESG efforts as somewhat of a burden.
During her talk, Amanda outlined how she wants clients to see ESG efforts not as a burden, but as an opportunity to grow. She introduced BW's ''ABCs" for ESG investing:
A - Aim for better
As with all regulations, ESG compliance will require a lot of time and effort to get right. The UK is the first country in the world to start mandating TCFD-aligned climate disclosures, so whether ESG is high on your agenda or not, many businesses will have to factor it in to their annual reports.
However, we want our clients to see ESG as more than a box ticking exercise. Investors can't diversify around systemic risks to the environment or societies we operate within. As climate change accelerates, we except that more and more links on the supply chain will be impacted by disasters, political unrest and mass migration. Sustainable investing is therefore the future of investing. And getting things right now will help you get ahead of the curve when investing in environmentally unsustainable options becomes uneconomic.
However it is more than that, as we believe ESG investing has wider benefits. The benefits for the planet cannot be overlooked, but there are other benefits to be gained from being at the forefront of sustainable investing. Ever since the pandemic, we have seen an increase in the number of employees that have demanded more from the businesses they work for, and not just in terms of pay; an increasing number of employees want to see their organisation putting in place measures to either reduce their carbon footprint, or to actively play a role in reversing climate change.
That's why we want our clients to aim for better - better for them, better for their employees, better for the planet.
B - Benefit from the opportunities
Another myth to dispel is that ESG investing doesn't bring with it its own financial rewards.
The environmental sector is growing, and this growth is only likely to accelerate in the years to come as more and more companies invest in the sector. Conversely, some traditional investment sectors, even fossil fuels, will ultimately decline.
Getting in on the ground floor now allows your company to figure out how best to invest in this emerging market, finding the approach that best suits your needs and wants before a potential watershed moment when every company is 'forced' to invest in the sector.
There are a wide variety of investment opportunities available to those willing to put the time in, and ones that can see ROI sooner rather than later. Many see ESG investments as ones not likely to pay off for another 20 - 30 years, but we want to help our clients find the investments that can help them in the here and now.
C - Control the controllables
Ultimately, environmental concerns are too big for any one company to have a considerable impact on. It will take co-ordinated and sustained efforts from businesses and other bodies across the world to slow the rate of change we are seeing today. Compliance mandates can seem a burden when you don't think your ESG efforts are making a difference, but we want to show our clients that if they just focus on what they can control, they'll see that meaningful progress is being made.
Unreliable impact data is often seen as an Achilles' heel for ESG investing, but big strides forward are being made all the time. Waiting until the data reporting is perfect isn't worthwhile, as by then it may be too late. If you do your due diligence on your investments, you'll know if you are making the right kind of difference for the planet. And seeing the rewards for doing so.
Work out how your time and effort can be best spent and include ESG concerns in all of your investment decisions going forward. The change may take a little time, but eventually you will start to see that ESG need not be a burden, but an opportunity that benefits not only your company, but the entire planet.
Amanda Latham is policy and strategy lead at Barnett Waddingham
Find out more about the ESG investing approach at Barnett Waddingham
This post is funded by Barnett Waddingham