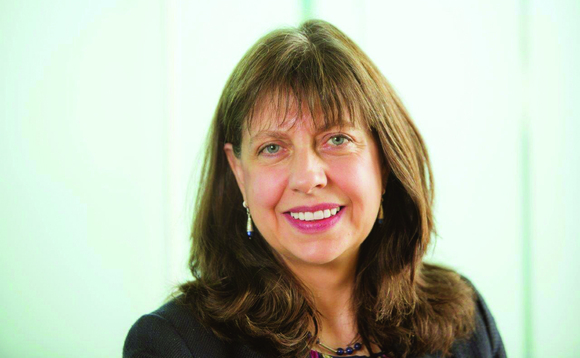 "It feels absolutely great," says Emma Douglas when asked how she is settling into juggling two major new roles in the industry.
It's now more than six months since Douglas was appointed as chair of the Pensions and Lifetime Savings Association (PLSA) - a key leadership role in the industry many expected would be a perfect fit for a candidate with the breadth of pensions experience Douglas brings.
Douglas successfully assumed the PLSA role in October, the same month after making a major move away from Legal & General Investment Management (LGIM) where she had been head of defined contribution (DC) for almost eight years. She is now managing director of workplace at Aviva and busier than ever before, with her rise at the PLSA widening her reach across the industry from a significantly DC-heavy career thus far.
The road to the top
Like many, Douglas says she "just ended up in financial services" after starting out on a graduate training scheme in a now-defunct financial services company. And while this was her introduction to finance, Douglas did not have a big 'aha' career moment that wholly enticed her until coming across DC pensions.
"That was the moment of 'this is great because it has investment content, it has marketing, and it has the connection to an end member'," she explains. "It also, when I started out in it, had the Cinderella appeal - it was the neglected little part of the industry. We needed to love it more because frankly that's where the future was."
Douglas strongly felt DC pensions in particular needed "better PR" and to be perceived more positively, adding: "Actually DC can be good - it's not got the guarantees of defined benefit (DB) but it's got more flexibility, and if you do it right you can still have a decent standard of living in retirement."
DC is made appealing by the nature of being a "three-legged stool" operation, Douglas explains. In addition to the operations side, there is also administration and investment.
"The investment side has got so much more interesting now with all of the ESG investments and the net-zero commitments," she says, adding: "There is also the member communication aspect - that never goes away - and the engagement challenge is always there."
To cap it all off, digital progression and technology has "just added to the armoury" that the industry has on its mission to try to engage members, she says.
Twin peaks
Position: Emma Douglas is chair of the PLSA and managing director of workplace at Aviva.
Previously: She was previously head of DC at Legal & General, between 2014 and 2021, and a partner at Mercer between 2011 and 2013. She has also held roles with BlackRock and Threadneedle Asset Management. She has served on various PLSA councils and committees since 2008 and became chair of its policy board in 2018.
"And then it's all on a bedrock of actually doing it right. When a member rings you up and they want to take their money out, or they need to retire, or there's been a bereavement, are you there for them, are you doing the right things, are you doing it quickly? All those three things have to be right."
But Douglas also has gained experience in a much broader range of issues than just DC, particularly during her time as chair of the PLSA's policy board - a role which she says gave her a "really good grounding" both in the diversity of the trade body and the most important industry concerns, along with a first hand look into industry sentiment that will aid her well in her role as PLSA chair.
She says: "My background is obviously DC - that's what I know most, DC and master trusts - but through the policy board I got more exposure to what the key DB issues are, what the issues for the Local Government Pension Scheme are, and so I thought I was a more rounded candidate to apply for the chair role and it felt like the right time to apply."
Balancing priorities
With the raft of changes steamrollering the pensions industry, it is difficult to imagine how such a key role in the industry as chair of its biggest trade body can be balanced with an executive-level day job.
"It just kind of happened," Douglas observes. "I wasn't particularly looking to move from LGIM, I had a great time there. The Aviva role came in at a point when I was thinking 'well I've done this job for nearly eight years, what is next for me in the industry?'"
Douglas considered options such as moving into independent non-executive director or independent trustee type roles.
"It felt like with both the PLSA and Aviva, it's one last big roll of the dice, so let's go big and see what I can do in both of them," she says. "Sometimes I think it was a lot to take on, but I'm really happy that I've gone for it."
Douglas is encouraged by the thought that taking on the two roles mixes up the pattern of behaviour in which women can often hold themselves back. "I said let's go for it, what have I got to lose here? It'll be a rollercoaster three years of the PLSA and Aviva together but let's see what I can do with it."
Broaching new heights
After experiencing great diversity across the policy board - including a higher ratio of female board members - Douglas says it is vital the PLSA continues to reflect on its success in the area.
"It really felt a bit of a breakthrough to be doing that," she says of the policy board's diversity. "And it can make a difference to thinking about women. The gender pension gap is real, and so anything we can do about that to aid people who are part-time workers, who are mainly women, is crucial."
Douglas says questions such as whether or not enough money is going in when women contribute to pensions, and whether that is developing into a sum suitable for a good standard of living in retirement, will be key focal points in her leadership as chair.
She explains: "I think it's really important that it's inclusive because the pension system at the moment isn't as inclusive as it should be."
Furthermore, getting people enrolled in workplace schemes from the age of 18 is essential, Douglas says. "It's those early years of saving, particularly if you do take some time out later for maternity leave or even paternity leave," she says of the accumulation period. "If you've started earlier, it's not quite so painful to have that time out when you're not contributing."
Grassroots focus
Douglas is positive the PLSA is well-equipped to make a real difference - a goal she says is well-timed with the trajectory of her work.
"At some point in your career, that's what motivates you," she says, pointing particularly to the PLSA's focus on adequacy.
The central question, Douglas says, is what can be done about the next stage of broadening and deepening auto-enrolment (AE) and taking action from the very start of a saver's pension journey.
Adequacy will be the key theme and focus of Douglas' time as chair.
"I've sometimes thought that 'adequacy' doesn't sound like a very motivational headline; we just get to adequate," she says. "But really it is - and that encompasses the AE expansion in DC, but also supporting DB schemes. If those DB schemes still exist, they are certainly at the moment, and to be honest for many years to come, providing a good underpin for people in terms of what income they'll get in retirement."
Nonetheless it is not just questions of how to get more money going into the system, Douglas says, but how you help people understand what is going to be enough or "at least set an expectation in terms of retirement lifestyle that people are going to get".
Douglas was a central figure in the development of the PLSA's Retirement Living Standards (RLS) in her time on the policy board. Launched in October 2019, the standards aim to help savers picture the lifestyle they want in retirement and understand the costs involved.
"People aren't contributing enough and don't realise what their pension pot is actually going to buy them at retirement," Douglas emphasises. "There can be horrendous disappointment, misery and unpreparedness all round.
"That is why adequacy is my big banner headline."
The fine line of hybrid
There is more to think about than just the causes and topics the PLSA will champion in the next few years, however, with the question of how people will work and engage as the effects of the pandemic recede being key. Douglas says the benefits of working from home and the benefits of working face-to-face will need to be successfully knitted together to meet this new path forward.
"Covid has shown us that when they have to be, everyone can be digital, and everyone can be remote. That makes quite a big difference," she says.
Face-to-face member presentations, going on site, member presentations and gathering employees in a room were common pre-Covid happenings at the PLSA and "pretty successful in terms of engagement", Douglas adds.
But while Douglas says far more people join in and listen when you do an online session, she notes it is not as interactive - something she notes is one of the problems of digital. Despite this she says getting the pensions message out and developing that digital communication is "vital".
Douglas also notes that pensions "haven't been the earliest adopters of all things digital" and says the traction since the development of personalised and easy-to-access digital offerings for customers is evident.
"You can just achieve so much more if you can do it digitally," she says. "It's cheaper as well so that is probably the big revolution that we've seen as a result of Covid."
On a personal level Douglas says she is "really looking forward to meeting people face-to-face" as the PLSA opens back up to live and in-person working this year and remains "absolutely committed to the PLSA being an organisation that brings the industry together".
The PSLA's ESG conference this month is a virtual event, while its investment conference, annual conference and local authority conference are set to be held in person.
"That was a really big decision for the PLSA to make because these are massive events - they require months and months of planning, and it's hard to have certainty that you're going to be able to go ahead face-to-face," Douglas says. "At the moment it does look like we will, and I'm just so looking forward to seeing everyone."
The PLSA crown
This year marks 100 years of the PLSA, an important anniversary that means Douglas is particularly eager to put her best foot forward.
"The organisation is bigger and more important than any of its individuals so you've got to be concerned about the PLSA in its own right as a membership body. You have to feel that you want to pass the sacred chalice of the PLSA on in a good state to the next chair."
That being said, Douglas wants to bring her own personal mark to the role as well and continue to push for change in the industry that helps raise the standards of people's retirement outcomes.
Heading into its one hundredth year has seen the PLSA set out a revised five-goal strategy for 2022 to 2024. Douglas says the goals "aren't radically different" from what the trade body has laid out for itself before, but she likes how they are articulated this time round.
The first goal is improving pensions policy. "That's obviously totally central to what the PLSA does," Douglas says. "It's why we exist and that's in the very broadest sense - championing a policy framework that means most people can have an adequate income in retirement. Also doing our best to ensure that the regulatory environment - the environment in which our pension scheme members and business members have to operate - is appropriate."
Secondly, bringing the PLSA together so members feel they get good value. "That's when you listen to a talk, you have conversations and it really helps," Douglas adds. "I think it's lovely just to be able to talk peer-to-peer as well and ask, 'what are you doing about this' or 'how are you coping with that'.
The third strategy goal in the PLSA's plan - engaging members effectively - is one Douglas says the organisation plans to expand on.
She explains: "We are a membership body at the PLSA after all but some of how we do this has changed since Covid. We've got much more content digitally now for members, but we want to really develop this so that members can see the PLSA as a real source of information and expert knowledge on some of the key issues."
The fourth goal on the PLSA's 24-month radar is internal - investing in people as systems.
"There is a really brilliant team at the PLSA but we need to make sure that they feel they can have a proper career at the PLSA as well," Douglas says. "It's often easy when you're working for a membership body that is not-for-profit (NFP) to think of potentially higher salaries available elsewhere.
"We've got to really work hard to retain the great people that we've got at the PLSA, and we don't take that lightly at all."
The final goal to play out under Douglas' leadership centres around financial stability, which was "put more into sharp focus" by the experience of Covid-19, she adds.
Indeed, striking the balance between being an NFP and making sure the PLSA is financially viable as an organisation will take careful and conscientious management.
"We've had to eat into some of our reserves, and that's what they are there for, but financial stability probably wasn't a goal for some of my predecessors because they were in a much more stable financial environment," she says.
While work may be busier than ever over the next few years, Douglas maintains that balancing work with hobbies and interests is vital to success. Spending time with family is at the top of the list, along with jewellery making and visiting the theatre.
"They are both quite creative outlets," she says. "It's nice occasionally doing something that is so different from the day job. It just helps you rebalance."