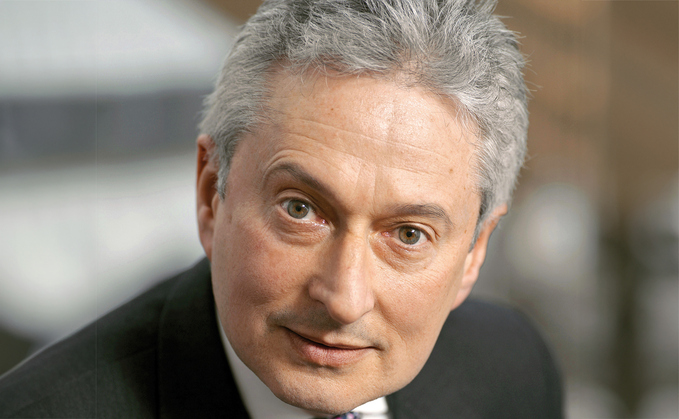 In the latest in his series of monthly columns for Professional Pensions, Robin Ellison looks at over-regulation as well as surpluses and the new Nicolas Cage pension film.
October was a busy month. It was National Pitbull Awareness Month (didn't realise we needed a special month for it), Mental Health Month, Breast Cancer Awareness Month, ADHD Awareness Month, Socktober, Cybersecurity Awareness Month, LGBTQ+ History Month, and National Book Month.
During October, the 29th was a particularly busy day - it was Hilary Clinton's 76th birthday and both RSPB Feed the Birds Day and National Cat Day, which seems serendipitous for cats if not birds. But more importantly it was National Pension Tracing Day (www.nationalpensiontracingday.co.uk). National Pension Tracing Day is not lonely; it has a number of siblings: Pension Awareness Day (https://pensionawarenessday.com/) - and Pension Awareness Week, which were both in September; and of course Pay Your Pension Some Attention (https://www.pensionattention.co.uk) this year with a change of comic in support.
One day we will have a Pensions Regulation Day, and we will all be encouraged to wear little slips of red tape on our formal clothing to celebrate. And then The Pensions Regulator (TPR) will need to regulate these days, rather like it has decided to regulate pensions administrators, and we can look forward to fines, value for money statements, chairs statements and whether there has been compliance with the Online Harms Act. It will also need to pre-approve the lapel badges, which currently seem to be a little tacky and whose text needs the eyesight of eagles to read.
Surpluses and Bristol Water
One of the odder insanities of the UK pension system is that when interest rates rise, defined benefit (DB) pension schemes' funding improves (according to actuaries and accountants) unlike for humans with mortgages. With recent changes in fixed income terms, surpluses, last heard of in the 1970's, are now returning rather like flared trousers and mullets. The Pensions Ombudsman seems minded to treat them as belonging to the employer and a first-class letter to the House of Commons Work and Pensions Select Committee which looked at the Bristol Water case explains why. It is skilfully drafted and could serve as a model for the slew of pension schemes now enjoying similar conundrums, although it does not deal with any consequent tax challenges.
It's been a long time since we all had to remember what the judges said about ownership of surplus; the one engraved on a plaque on most lawyer's desks (if they still have one) is that of Millet J in the Courage case: 'I think it would be a pity to waste these surpluses by not ensuring that some part of them are used to pay the lawyers' (re Courage Group's Pension Scheme [1987] 1 WLR 495).
ROR and the House of Lords
Regulators are keen to introduce acronyms; ROR might be a useful one to introduce to describe Regulators Own Regulation. At a time when TPR is thinking of expanding its remits there comes an initiative by the House of Lords Regulation Select Committee looking at whether our regulators in general have overdone it - and whether they are themselves being subjected to decent oversight. Whether the committee will come to any very definite conclusions is too early to say, but it may be time to explore, in relation to TPR, whether the nominally independent outcomes of Department for Work and Pensions and National Audit Office surveys of the regulator, which contain large chunks of TPR's own opinions as justification for the excellent work it does, are justified. The TPR satisfaction surveys inevitably seem to claim levels of satisfaction with their activities exceeded only by winners of the Zimbabwean General Election. Since few of even our finest institutions gain the kind of approval ratings that TPR enjoys, there seems to be something odd about the surveys' outcomes, perhaps because many of which involve questions which are framed to give positive answers: 'Are we doing well, very well or simply brilliantly?'. Even Mr Putin would be embarrassed. Maybe surveys should be regulated.
More levy, fewer members!
Brenda from Bristol has a sore throat; 'Not another one' she opines on autodial, as yet another new consultation (on the levy this time) asks for comments. Ten points for the consultation; nul points for the fact that all the options involve calling for more money from us (see: The Occupational and Personal Pension Schemes (General Levy) Regulations Review 2023). This new non-consultation wants to double TPR's budget to £200m, and charge smaller schemes £10,000 a year registration to bludgeon them into merging with others, which might be a mixed blessing for the regulator. It offers three options; unsurprisingly none of them refer to an option to cut the levy, or reduce the role of the regulator. There are several statements of what a good job the regulator is doing (wonder who drafted that) and how it needs to be tougher etc etc, but no evidence to back up the statements. It also seems a bit unsporting for SSASs to have to pay £10,000 a year.
The government is determined to cut back on over-regulation yet the DWP does not even pay lip service to that policy direction. It is probably not worth replying to the consultation since the department's mind is made up, but the trade bodies need to put forward a joint objection in the most forceful terms. The regulatory budget needs halving not doubling, especially since the number of schemes it needs to care for is diminishing. What will they need to charge once there's only a couple of dozen schemes? The NAO needs to conduct a genuine VFM audit on TPR, at arm's length, before this consultation is complete. And maybe introduce competition into regulation; regulatory monopolies suffer the same problems that commercial monopolies suffer from. It's probable that TPR 2.0 operating out of Skye or Scarborough could do the job better for half the money.
Pages of regulation
We do have too much regulation, but we should be grateful for some mercies. Pensions is bad, but planning, for example, seems worse. The Daily Telegraph suggests that environmental impact statements for major projects have grown a little. The Jubilee Line extension statement was just under 400 pages, itself something of overkill. But Sizewell C was 44,000 pages (see: Mustafa Latif-Aramemesh's article in the The Daily Telegraph, Fix planning and set Britain free to build again). And now of course half of the HS2 impact statements will now be otiose.
Regulatory stable door slot
The Financial Conduct Authority (FCA) has censured London Capital & Finance (LCF) for unfair and misleading promotions of minibonds but did not impose a financial penalty. The FCA said the company was insolvent and in administration and that a fine 'would only divert funds that the administrators may use for the benefit of bondholder creditors'. The Serious Fraud Office is investigating suspected fraud and money laundering at LCF, where 11,000 investors lost more than £237m between 2014 and 2019 in a minibond scheme, and it does have a new director, so there may be some traction. But what was the point of the FCA report?
Professional shortages and what TPR could do to help...
Last month's column mentioned the distressing shortage of accountants in the UK. Understandably it was reported at very great length in the Financial Times. Meanwhile at the other end of the broadsheet spectrum The Times last month fittingly mentioned another distressing labour market issue, namely the shortage of wine experts in restaurants following Brexit, a risk not mentioned by Nigel Farage at the time of the referendum (see: Britain's sommelier shortage — and how the unlikely crisis is being solved). Despite the title of the article, the problem is not being solved. Maybe we could happily retrain some of our superfluous lawmakers…
The Persil effect (other detergents are available): compare and contrast
The independent review of TPR, unlike the fine imposed on the ExxonMobil Pension Plan, did not seem to merit a TPR or DWP press release; maybe the team were on an awayday or on strike. Unsurprisingly it concludes that TPR is doing a good job, but does not mention any of its failures. It measures according to the measures, so does not assess how members outcomes have been protected. It could well have been written by TPR itself. The review looks very much like a whitewash; it reports that:
"TPR is broadly well-run and well-regarded, as reflected in its consistently strong performance in DWP's annual assurance ratings, and TPR's staff and stakeholder surveys. It has some notable successes in its track record, for example the implementation of Automatic Enrolment (AE). It has a coherent strategy focussed on clear outcomes with the interests of savers at its heart and holds itself to account against a range of key outcome and performance indicators. The recommendations in this report relate to areas for improvement but should be viewed against this positive backdrop."
Of course. But unfortunately it did not take account of a parallel government initiative (Government launches review of regulators to cut red tape and bureaucracy: Review set up to cut burdens for businesses in new post-Brexit regulatory framework and improve customer outcomes) which concludes more appositely:
"The regulatory landscape is a crowded space, with too many regulators having too many duties to trade-off against each other meaning consistency across regulators and a clear direction on what good looks like is essential. Regulator behaviour, risk appetite and overall performance is not as it should be. Businesses/industry groups argue that regulators are overly risk averse and focus too heavily on process, and that this is at the expense of delivering the best outcomes. Regulator powers and accountability have not moved in tandem, in part because of the increased decision-making power of some regulators now that decisions are taken at a UK- (not EU-) level."
Pensions and films
Nicholas Cage usually appears in decent films, but it looks as though he may have been sold a pup in his latest, released last month in the States and probably going direct to DVD in the UK. Rather like Bruce Willis in Red, Cage in The Retirement Plan plays a retired spy living on a pension, this time in the Cayman Islands. The film is a thriller/comedy, but there's a lot of death in it which should please the actuaries. Now that TPR is rating pensions-related movies, we might expect an X certificate, since the plot involves the characters' lack of internal governance and risk management.
Robin Ellison is, among many other things, the chairman of the College of Lawmakers, a retired pensions lawyer, a visiting professor in pensions law and economics at Bayes Business School, City, University of London and chair of several pension funds