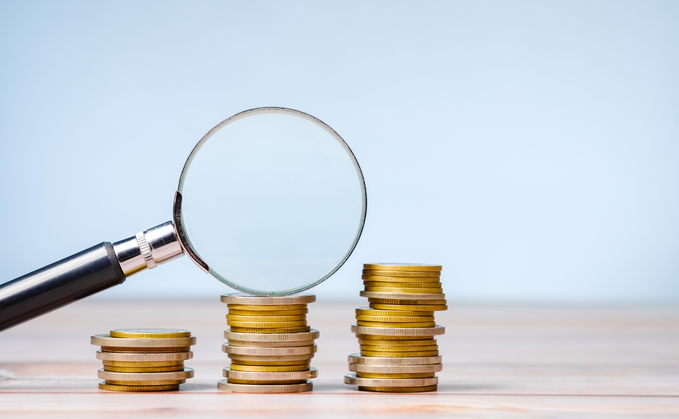 Professional Pensions spoke to LGIM's Rita Butler-Jones and Olasumbo Biobaku-Mason to discover the drivers of the ethnicity pensions gap, and what the industry can do.
In recent years, the industry has undertaken much effort to investigate the causes of issues like the gender pensions gap, the 'underpensioned' groups of savers and even through the recent findings of the 'generation gap' - however, less has been done around finding out the causes and impact of the ethnicity pensions gap[i].
With this in mind, Legal and General Investment Management (LGIM) carried out research among 4,000 UK adults at the end of 2022, including 2,000 who said they were from an ethnic minority background, to explore the drivers of the pensions gap.
The research found ethnic minority savers retired with an average pot size of £52,333, less than half of that among white British adults who retire with an average of £114,941 - with the ethnicity pensions gap measured at 54%.
To explore why this might be, Professional Pensions spoke to LGIM head of defined contribution Rita Butler-Jones and member proposition director Olasumbo Biobaku-Mason to discover the factors driving pensions inequality, and what the industry should focus on for underrepresented members.
Demographic disparities
The research, carried out in association with Humankind, conducted six focus groups with ethnic minority savers with varying pot sizes aged between 30 and 50, none of whom earned more than £50,000 and with several not contributing into a pension at all.
An online survey among nationally representative sample sizes of all ethnic groups found 20% of ethnic minority savers had lower incomes, compared to 11% of white British respondents, and were therefore less likely to qualify for the £10,000 auto-enrolment (AE) earnings trigger.
Additionally, one fifth (20%) cited the cost-of-living crisis as something that prevented them from paying into their pension, compared to 13% of white British counterparts.
Underpinning the data was a lack of trust, with one quarter (26%) saying they did not want to take a risk with their money, compared to 7% of white British respondents. They were more likely to cite the cost-of-living crisis as something that prevented them from paying into their pension (20% compared to 13%) as well as having seen negative financial impact from the Covid-19 pandemic (53% compared to 37%). Additionally, almost half (43%) anticipate accessing their pension early.
There was also stark data on those without a pension pot - the majority (69%) of ethnic minority respondents said they did not have a pension pot at all, compared to 44% of white British respondents (this was from the nationally representative of all UK adults, including the self-employed and unemployed).
A lack of trust around workplace pensions also underpinned the data, with more than one quarter (26%) saying they did not want to take a risk with their money, compared to 7% of white British counterparts.

Butler-Jones said: "Everyone deserves the opportunity to secure a better retirement irrespective of their gender, ethnicity or indeed income", adding the research was a result of several years listening and engaging with relevant groups of savers.
Referencing the gender pensions gap research from LGIM last year, Butler-Jones said issues remain for several groups, adding "ethnicity remains a major fault line of inequality in 2023". She said this disadvantage extends outside of the workplace and into retirement, with a lack of spare income, lack of trust and lack of knowledge the key reasons why some groups are less likely to save into a pension.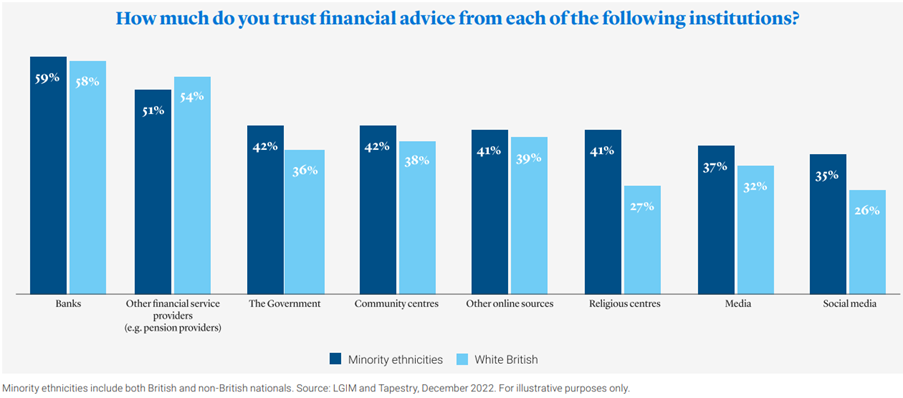 Biobaku-Mason said from a communications perspective, structural inequalities such as a higher incidence of low-paid work and having other sources of financial advice outside of financial institutions were "key drivers for inequality".
Citing research from the Trades Union Congress, which found insecure work among ethnic minorities has increased by 132% since 2011, she said while the industry may not be able to directly address some of these points, understanding these factors are a good starting point to beginning to close the gap.

Increasing trust
Survey respondents cited concerns around being able to access their money in the future, and mistrust around the pension age rising too far. One fifth (18%) added that they didn't understand pensions, meaning both trust and knowledge were key barriers to achieving outcomes.
Biobaku-Mason said: "If you think about trust, the language used in pension communications is a barrier. If you don't understand the language, then you can't build the trust that we really need to be able to cut through.
"What stood out is that people from ethnic minorities do look for financial advice, but to less traditional sources such as family and friends, religious or community centres, or social media", with family and friends in particular offering a "safe space" and a sense of trust.
"That is something employers can take away - most employers have diversity, equity, and inclusion (DEI) networks, so could they be tapping into those networks and having champions and advocates to support them with pension messaging?"
Additionally, the pensions industry itself could play its part by "tapping into social media more", with many savers already using social media platforms such as Instagram and TikTok for financial advice, not all of which is correct advice. This is particularly important given 37% and 35% of respondents say they trust media and social media for financial advice respectively.
"We need to be more present - the great thing about social media platforms… is it is really informal and you have to keep the messages short and punchy to keep consumers' attention. That will force us within the industry to explain things more simply and have a more conversational style within our communications which we sometimes struggle with."
Butler-Jones added events over the past few years regarding financial institutions could leave a sense of lingering mistrust among some savers, while Biobaku-Mason said the reason people are more likely to trust other institutions like religious and community centres comes down to the inclusive language they use.
Younger savers
Focusing on different age demographics is also a key way to think about the ethnicity pensions gap, with Biobaku-Mason pointing out that younger Gen Z and millennial savers are more likely to be accustomed to newer forms of communication.
"The more traditional forms of media are not going to cut through and support these groups in the way we need to be supporting them… I think you need to be looking at the presenters of the videos and if they reflect the groups that we already know might feel more marginalised and who are not getting the support they need from us."
"If you look back ten years ago, even producing a video was seen as a bit out there for the pensions industry. I think if we are to have the cut through the industry wants to have as a collective, then we are starting to recognise that as an important requirement."
The research found most savers (71%) agreed providers can assist in bridging the education gap, while focus group interviews discovered the framing of pensions, such as being 'free money' from employer contributions, were more likely to encourage people to save. Young people in particular are more informed about ESG matters, said Biobaku-Mason, meaning there is an opportunity for schemes to engage members through providing more information about where their pots are invested. "All of those messages will only strengthen engagement within that group".
Butler-Jones agrees that with younger generations now entering the workforce, it is essential to adapt to their needs: "It isn't about what works for us, it is about what works for the end consumer".
Ensuring adequacy
While many in the survey cited lack of trust in where their pensions might end up, there are other ways to address retirement outcomes within ethnic minority savers. Biobaku-Jones said: "Some people can't afford to save, but when they are saving, they are putting it into different vehicles - to some degree it feels more tangible, as when you put your money in property you can see it, whereas you can't physically see a pension and you don't access it until later".
Butler-Jones added the research forms part of a wider industry understanding that in general, people are not saving enough and are not aware of how much they should be contributing to their pensions. "That is down to us as an industry, and working with employers to ensure we can inform and educate people in the workplace - that education needs to start much sooner than when you enter the workplace.
She said that throughout most savers' working lives, they rely on the idea that by simply paying into their pension, they will have enough money to retire on, while those approaching retirement often have the first realisation that what they have been contributing might not have been enough.
Additionally, the research found almost half (47%) of ethnic minority respondents said they have taken time out of work for caring responsibilities (compared to 41% of British respondents), with a third of savers saying they stopped both employee and employer contributions (35% and 30% respectively) - the research noted those who are "doubly affected" by both the gender and ethnicity gaps are more prone to this.
Referencing research on the gender pension gap, Butler-Jones said it is important to think about members at each stage of their saving journey, with women in particular more likely to leave work due to medical conditions or the menopause at the highest stage of their earning power, meaning contributions can be missed out on. "There needs to be more emphasis on people entering the workplace to contribute as much as they can in the early years, because it will make a difference in the future to do that".
This mirrors findings from the research which found the majority (64%) wanted their providers to offer greater flexibility in their contributions, while 69% wanted it to be easier to sign up to a pension. One focus group member said: "It should be tailor-made to your circumstances. To dictate it has to be a certain % can put you off. If I could have flexed it to 1%, I might have stayed on..."
However, the last year has seen one fifth (19%) having increased their contributions, while a similar percentage (21%) said they did this because they now understand pensions better, showing education can have a positive impact on members.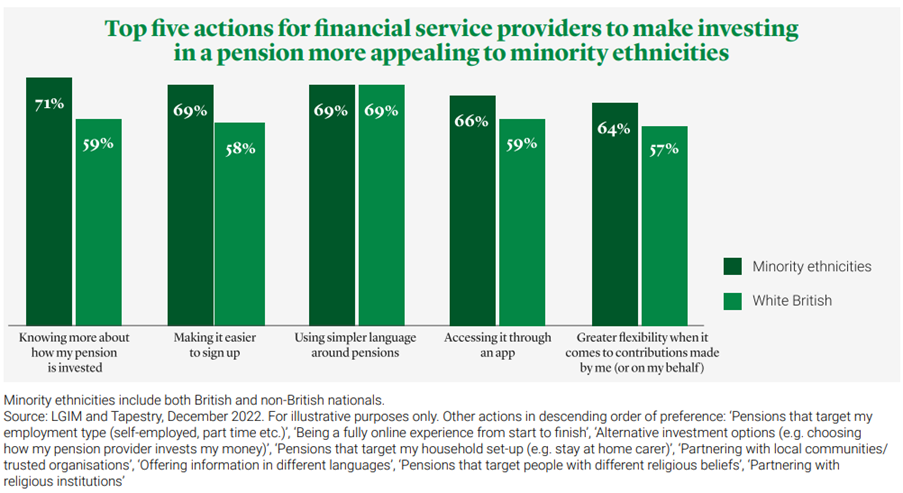 "Having the real diversity and representation in communications and engagement should be a priority so we can improve engagement with clients and members. From an ethnicity perspective, will need to continue to gather data and analyse it to ensure we can track where we are, if it is improving, why we are doing it, and what impact it is having - especially around areas of trust and understanding", Butler-Jones said, pointing out that having diversity within the pensions industry itself is a good starting point to improving outcomes for all members.
Read more
Achieving a sea change in the alphabet soup of pensions
Majority of savers aware of 'generation gap' in pensions
AE extension bill 'important step forward' in boosting outcomes
DC savers at risk of rise in pensions gender inequality
One third of savers facing poverty in retirement
Pension firms create group to tackle pensions inequality
75% of savers do not know value of their pension pots
A trustee checklist for… gender pensions parity
Women retire with pots half the size of men's
Nearly nine million people are 'under-pensioned'