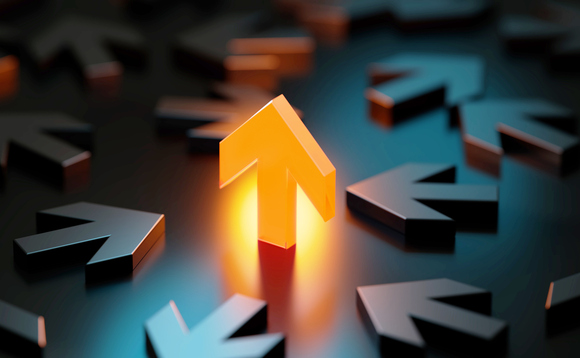 The UK pension risk transfer market saw £44.7bn of buy-in, buyout and longevity swap deals in 2022 despite the dampening effect of 'dramatic' increases in gilt yields in the second half of the year, consultancy analysis reveals.
Lane Clark & Peacock (LCP) said 2022 volumes were just ahead of the £43.9bn seen in 2021 and marked the third busiest year on record behind 2019 and 2020.
It said, for buy-ins/outs in isolation, volumes reached £28.1bn in 2022, compared to £27.7bn in 2021, with £16.1bn of transactions completing in the second half of the year.
The consultancy's analysis of insurer results found that, for the first time, six insurers secured a 10%-plus market share, up from five in 2021, four in 2020 and three in 2019. These six were Legal and General (L&G), Standard Life, Aviva, Pension Insurance Corporation (PIC), Rothesay and Just, together writing 96% of 2022 buy-in and buyout volumes.
L&G wrote the highest buy-in and buyout volumes with £7.2bn (26% market share), transacting the two largest deals of the year - two buy-ins totalling £4.3bn with the British Steel Pension Scheme.
Behind L&G - Standard Life, Aviva and PIC all wrote over £4bn, with Rothesay on £3.4bn. LCP said Just grew its market share, increasing volumes by nearly 50% to £2.8bn and writing its largest transactions yet.
Buy-in/buyout volumes in the UK by insurer
Insurer

H1 2022
(£bn)

H2 2022
(£bn)

Total 2022 (£bn)

2022 share

Total 2021 (£bn)

2021 share (rank)

Legal & General

3.7

3.5

7.2

26%

5.3

19% (3)

Standard Life

1.6

3.2

4.8

17%

5.5

20% (2)

Aviva

1.9

2.6

4.4

16%

6.2

22% (1)

PIC

2.4

1.7

4.1

15%

4.7

17% (4)

Rothesay

1.0

2.4

3.4

12%

3.0

11% (5)

Just

0.6

2.2

2.8

10%

1.9

7% (6)

Scottish Widows

0.4

0.5

1.0

3%

0.1

0% (8)

Canada Life

0.3

0.0

0.3

1%

1.0

4% (7)

Total

12.0

16.1

28.1

100%

27.7

100%
Source: LCP analysis of insurance company data. Only buy-ins and buy-outs with a UK pension scheme are included. The data therefore excludes the APP transactions by L&G (£925m in 2021 and £93m in 2022) and overseas transactions for L&G. Just's volumes reflect gross premiums before allowance for any liabilities being reinsured by external partners. Note: the totals may not sum due to rounding.
LCP also predicted a "surge" in demand to drive record breaking volumes over 2023-2025 - noting that dramatic increases in gilt yields over 2022, coupled with improved insurer pricing, has seen buyout funding levels improve for many UK schemes, with LCP estimating that nearly one in five are now fully funded on a buyout basis.
It said this has led to an acceleration in market activity which it expects to drive "record breaking volumes over 2023-2025".
LCP partner Charlie Finch said: "2022 was a strong year for UK pension risk transfer with the third highest volumes on record despite higher gilt yields and the market volatility following the LDI crisis. We are currently seeing a surge in demand for buy-ins/outs following dramatic improvements in buyout funding levels last year and we expect this to drive record-breaking volumes over 2023-2025."
LCP principal Ruth Ward added: "2022 was a vibrant competitive market with an unprecedented six insurers securing a 10% plus market share. It's welcome news that all market participants now are able to transact non-pensioner members, aligning with the continuing shift from pensioner-only to full scheme transactions.
"This provides a competitive backdrop as we enter a new busier phase for the market that will test operational capacity at insurers and make it harder to secure quotation capacity from them, with some insurers declining two out of three deals."
Spare capital for insurers
Aon's UK Risk Settlement Market Update, published today (21 March) said 2022 was the fourth successive year where more than £25bn of bulk annuity business was written - with a total of £27.8bn of bulk annuities written in addition to £15.7bn of disclosed longevity swaps.
But Aon said the market for bulk annuities may well have passed £35bn if yields had remained at the level they started at in 2022 - something it said had left insurers with "spare capital" for transactions in 2023.
It said 2023 would see a number of multi-billion-pound transactions "that may well push the annuity market to a record volume" - adding that the key constraint for market size this year was likely to be the capacity of the teams at annuity providers to process transactions.
Aon's report also said the focus of the market had shifted to full scheme transactions as de-risking had accelerated - noting that, of the ten largest disclosed deals for 2022, none were the pensioner-only deals that were previously dominant in the market.
It said the significant shift to focus more on full scheme transactions reflected the combined impact of several factors including improvements in annuity pricing, improvements in scheme funding levels, higher market yields and exchange rate movements, which made deficits more affordable to overseas parent sponsors of schemes.
Volumes of risk settlement transactions
Source: Aon's insurer due diligence team
A 'quantum shift'
Mercer's said its analysis of 2022 bulk annuity transaction activity showed "a quantum shift in the number of transactions completed" - with the number of deals more than 30% higher than the average over the last decade.
Risk transfer partner Ben Stone said this increased activity reflected the improved buyout affordability across schemes but also an increase in scheme efficiency and insurers working together to price and complete a transaction.
He said there had been over 200 separate bulk annuity transactions in 2022 - a 33% increase on the 154 transactions in 2021 and the largest number of transactions in a single year over the last decade (with the previous high being 219 transaction in 2013).
But he added that, compared to 2013 and earlier years, the market has changed with a much wider spread of insurers writing deals of all sizes now whereas before 2013 the vast majority of business came from one to two insurers writing up to 100 micro-transactions annually.
Read more:
Risk transfer volumes reached £27.9bn in 2022
Standard Life says market volatility has led to large BPA market shift
Hymans predicts bulk annuity surge with over £50bn a year of deals
Risk transfer market could exceed £40bn in 2023
Bulk annuity transactions exceeded £25bn in 2022, L&G says
WTW forecasts £60bn of DB de-risking during 2023
LCP predicts record-breaking year for de-risking market
The top five pension risk transfer trends for 2023