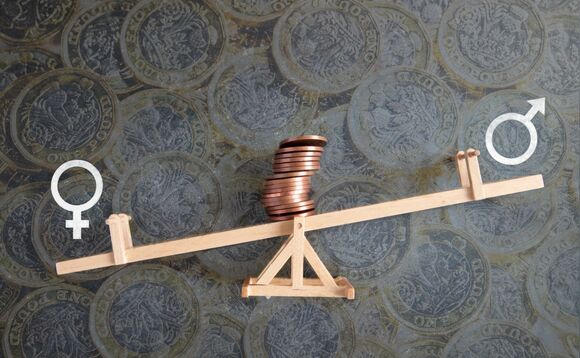 Key points
Analysis finds this is the third successive year that pensions firms have cut the gaps in pay between men and women
Investment firms continue to report the biggest gaps, but are making progress
Public sector bodies have the lowest and sometimes negative gaps
For the third successive year pension firms have cut their gaps in pay between men and women, representing an ongoing trend since they were required to disclose the disparity in average pay.
Professional Pensions analysis of the gender pay gaps at 124 firms involved in pension scheme provision, administration, investment, advice and policy finds that three in five of those analysed recorded an improvement of their mean gender pay gaps.
On average, the mean gap reduced by 90 basis points to a 23.1%, meaning that women are paid 76.9 pence for every £1 earned by men in the industry.
Almost the same number of firms recorded an improvement in their median hourly pay gaps, as well as their mean and median bonus pay gaps, the mean average of which were recorded as 24.2%, 47.1% and 36.7% respectively.
This is the fourth year that Professional Pensions has analysed the figures, with an improvement recorded each year since the reports were made mandatory in 2017 for all firms with more than 250 members of staff in the UK.
The data refers to pay figures at either of the snapshot dates - 31 March or 5 April 2020 - and was required by 5 October after a six-month Covid-19 delay from the original reporting date. It also follows a relaxing of the rules for the 2019 data last year, although the vast majority of pension firms still filed the reports or provided the 2019 data this year.
Progress still needed
In Professional Pensions' analysis, the pensions sector with the largest pay gap was investment managers, where the 49 firms analysed reporting an average mean pay gap of 28.8%, with this having reduced by one percentage point since the last reporting date.
Calculating the gaps
The reports provide pay gap information on a mean and median basis, as well as bonus pay gaps on the same bases, the proportion of men and women in each pay quartile at a business, and the proportion of men and women who received bonuses in the reporting year.
While this analysis is not exhaustive, will include data from people not working within the pensions arena, and does not illustrate if men and women are paid different salaries for the same job, it serves as a useful indicator of the direction of travel, the number of women in senior positions, and progress made across the industry.
The analysis includes 49 bodies that Professional Pensions has classed as investment firms, 30 as providers, 27 as law firms, 18 as consultants, 15 as administrators, 13 as government or public sector, seven as insurers, and three as trade bodies. Some firms may be in multiple categories.
Investment managers were followed by scheme providers (27.1%), insurers (26.3%), administrators (24.9%), consultants (22.4%), law firms (17.5%) and government (10.5%). Some firms may appear in multiple categories.
Factors that influence the gap include the number of women in the most senior positions, as well as the proportion in the least-paid positions, and the overall ratio of female and male members of staff.
Further, although a uniform percentage pay rise could apply, a 1% pay rise, for example, will be higher for the higher-paid staff than lower-paid staff, thereby increasing the gender pay gap when interacting with the above factors.
It also does not include salaried partners and does not distinguish between full-time, part-time or maternity pay individuals due to the use of hourly data.
JP Morgan Securities reported both the largest mean and the largest median hourly pay gaps in this analysis, at 53.1% and 50.3% respectively, with only Goldman Sachs International joining JP Morgan Securities to report a mean pay gap above 50%. On the median basis, JP Morgan Securities was alone in reporting over a gap over 50%.
In an attached narrative for the gender pay gap reporting covering all of JP Morgan's divisions, EMEA chief executive (CEO) Viswas Raghavan said: "We remain committed to engaging and developing women at all levels, but we still have significantly more men than women in senior roles.
"To address this we continue to analyse the available data to understand and address the unique barriers women face in the workplace. And we are looking more closely than ever before at our existing talent and hiring processes, internal training, parental support offering and more."
Across all divisions, JP Morgan did report a consolidated fall in its mean and median hourly pay gaps of 1.9 and 1.1 percentage points respectively.
Morgan Stanley Employment Services had the highest mean bonus pay gap at 85.9% and Franklin Templeton Investment Management had the highest median bonus pay gap at 83.1%, although this was a voluntary report with the firm having fewer than 250 members of staff. Morgan Stanley and Co International chief executive and head of EMEA Clare Woodman said she recognised "we still have significant work to do to reduce and ultimately eliminate our gender pay gap".
The firm said it had introduced "gender-balanced shortlists, proactive career discussions, diversity progress reviews with divisional and country heads, and robust leadership development initiatives" - while it also achieved its target of over 30% of women in senior roles in 2020, two years earlier than anticipated.
But Woodman said: "We fully acknowledge that the pace of change has been too slow and addressing the gender pay gap remains a priority."
Conversely, the Money and Pensions Service (Maps) recorded negative pay gaps on all measures, with women being paid more than men on average. On its mean pay gap basis, the figure was -4% and, on a mean bonus pay gap, this was -55.9%, both the lowest figures in these areas of analysis.
In its pay gap narrative, the guidance body said: "In our commitment to create a diverse and inclusive workforce we are confident that our pay structures are not discriminatory in their design. Our first gender pay analysis confirms this and shows that we have a good gender balance at every level and that we have a small gender pay gap in favour of women."
On a median pay gap basis, Prudential Financial Planning recorded the lowest figure at -3.7%, while law firm Ashurst Commercial Services recorded a whopping -148.3% median bonus pay gap.
Sectoral laggards
Yet, as in previous analyses, the investment industry continues to be the laggard, recording the highest mean pay gap of all of the sectors analysed by Professional Pensions at 28.8%, as well as on the mean and median bonus pay figures on 58.8% and 47% respectively.
Of the ten firms with the worst mean pay gaps, all of which were above 37%, nine of them provided investment functions to pension schemes. The tenth place was taken by the Pensions and Lifetime Savings Association (PLSA), which submitted its report voluntarily as its headcount of fewer than 250 people can be easily skewed by one person's salary.
Investment firms have reported the highest pay gaps across the sectors in every year analysed since the initial 2017 analysis, although law firms have always had the highest figures when considered on a median basis.
Conversely, government and public sector bodies have typically had the lowest pay gaps on both bases and, indeed, this year featured seven times within the ten firms with the lowest gaps.
While there was broadly improvement in gender pay gap figures across all sectors, the provider and insurer categories of firms swung the opposite direction, seeing their average mean bonus pay gaps rise by 1.2 and 1.1 percentage points to 27.1% and 26.3% respectively. Administrators saw their pay gaps fall the most of all the groups, by 1.4 points to 24.9%.
When considering bonus pay, there was almost parity on average between men and women in terms of receipt for a bonus. On the mean basis, just 60 basis points more men received bonuses, while on a median basis, it was equal. However, with the average bonus pay gap at a whopping 47.1% it is clear the value of these bonuses vary significantly between the genders.
However, many firms did report that women were more likely to receive bonuses than men, with Travers Smith recording an 11.2 percentage point gap where 88.5% of women received bonuses compared to 77.3% of men.
In comparison, Legal & General (L&G) UK saw a 13.1 percentage point gap where 81.1% of men received bonuses compared to 68.0% of women. In a report for the wider L&G Group, human resources director Emma Hardaker-Jones said: "While we have made progress in several areas, our gender pay gap is a sign that there is even more to be done. We will know that we're bringing our ambition to life when we see a continued, progressive narrowing of the gap."
She said the gap was the "result of ongoing, deep-seated social inequalities", adding many were outside the firm's control, but that "accountability is important".
"The social inequalities that lead to the pay gap have once again been laid bare by the Covid-19 crisis and its economic impact. But, like all companies, L&G can and must play a role in driving positive change. No-one else will do this for us. We are making progress but we know there is always more to be done."
Data as of March/April this year is due by 4 April 2022 and will likely include some impact from the furloughing of or reduced hours of staff during the Covid-19 pandemic.
See more:
Investment firms record highest gender pay gap again
Over half of administrators cut gender pay gaps
Pension providers see a worsened gender pay gap
Two-thirds of pensions law firms cut gender pay gap
Political and regulatory gender pay gap rises
Jonathan Stapleton: Industry is heading in the right direction on the gender pay gap